World of Tanks Europe
ESL Major League - The Teams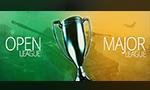 After 4 qualification cups over the entire February month, we found out the 8 teams that will join Kazna Kru, Penta Sports, DiNG and Oops in the first season of the ESL Major League!
Go4WoT has always been the best way for new teams to join the esports scene and it was only normal to have Go4WoT as an official Major League qualifier. After 4 weekends where over 180 teams fought bravely to gain a place in the Major League, we can now proceed on finding out who has the first chance of achieving supremacy in ESL.
The first match-day is going to be on
Thursday, 10th of March
, and all the matches will be brought to you in English by:
-

Zm0r
-
http://www.twitch.tv/esl_zm0r
-

Still_mojo & Kojot
-
http://www.twitch.tv/still_mojo
The invited teams
The qualified teams
What can we expect?
Two of the most renown World of tanks analysts in the world have shared their thoughts in regards to the upcoming Major League tournament. Check what they had to say:
Country:

Belgium

Professional WoT Player

Analyst & Commentator

As a competitive team you are always left with the question "How can we keep our skill and teamplay level high during the seasons". This is particulary for teams that don't qualify towards the GF/Rumble. Now with the ESL Major we have a way to keep our skill level high while preparing players for the new season. The major also adds the tension from WGL because its not like a training... you actually want to win this!

I think that the teams in here are all capable of doing good results. Of course, there were some surprises and some Gold teams not making it in. But we can see that mostly the teams from next season will be in that means it is possible to test how good the new Gold teams will be and how they play tactically. This is the ideal preparation for WGL.

I expect to have a lot of close matches as the teams all know eachother pretty well and it will result in some great games. All in all I expect the more veteran teams (Kazna,Ding,Penta,Oops) to take the best start, but the newer teams as they gain experience could catch up easily!

I'm looking forward to a great set of matches and can't wait to see how it goes!
Country:

Serbia

Professional WoT Player

Analyst & Commentator

I think the Major League teams are definitely top of EU now, even the ones that did not make it in gold league, tried to qualify and played top of silver.

It will be a great season and taste of things to come, level is not close but it IS a level of Gold Series, I am also hoping some of them will get wild card invitation for Grand Finals at Warsaw, so it will be great preparation period for all.

I would like to see experimental tactics and move on with current meta in gaming, since there is so many fresh teams and another perspective will come in play in the ESL Major League.

It's also hard to point a single team out as favorite. I am a subjective person in that domain and there is plenty KAZNA boys spread all over these teams, heh... Of newcommers, I would say the favorites are TWB and LGEND, of older teams I like plays of most invited teams, Oops for having some up and down moments beyond belief, Penta for testing tactics, Kazna for agressive plays. I'm hoping to see more courageous plays from DING, now after playing offline they should be seasoned enough too for everything that awaits them, so yes this will be quite interesting to cast and watch.
Follow us & spread the word




Tweets by @ESLWoT


Your

Admin Team
FoaMeA
, Tuesday, 01/03/16 12:10

No comments yet.

Information:
info write comment not allowed