World of Tanks Europe
Presenting the ESL Open/Major League!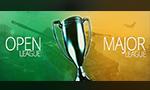 Following the success of the format in the CS:GO community, it's time to bring this exciting league to our World of Tanks players! There is a place for everyone in this competition; whether you're the best or just want to have some fun, there will be prizes for everyone!
With over
1.500.000 gold
as total gold prizes, the Open / Major league is going to be one of the most interesting, but also expected, European league that ESL has ever hosted.
So, what are you waiting for? Get your team ready, sign up for ESL Open League and compete for a slot in the ESL Major League!
How to participate
ESL Open League
ESL Major League

Open to everyone
Prizes for all players and teams
Sign up till 01 March 2016 18:00 CET

4 teams invited from WGL Gold
8 teams qualified through Go4WoT February rankings

Sign up for Open League
Sign up for Go4WoT Europe
ESL Open League
The ESL Open League will be open to each and every WoT team - all you need to participate is to sign up and play. Fight your way through groupstages and playoffs, and make a name for your team in the competitive scene!
The league will be divided into 4 Stages - two Groupstages, Playoff, and Relegation! The best teams in the final stage will be automatically promoted to the second season of
ESL Major League
. You can find more information about the league and its structure at the
ESL Open League portal
.
Schedule for the ESL Open League
Start date:
Tuesday, 08 March 2016
Check in time:
Sunday, 28 February 2016 18:00 CET
Late sign up:
Monday, 29 February 2016 18:00 CET.
Check in/Late sign up ends:
Tuesday, 01 March 2016 18:00 CET
ESL Major League
This league is reserved for the best European players. We will be announcing additional prizes for this league soon, so stay tuned!
For the first season we will be inviting 4 of the best teams in Europe, picked from the WGL Gold League. The remaining 8 teams will
qualify through the February Go4WoT Cups
!
ESL Major League will also be divided into 4 stages, with the best teams qualifying directly into the playoffs. The lower ranks move into the Relegation phase, together with the best Open League teams, to fight for spots in ESL Major League Season 2!
Join the discussion on this league and more World of Tanks related subjects on r/worldoftanks!
Follow us & spread the word
Tweets by @ESLWoT
Your

Admin Team


Information:
info write comment not allowed