World of Tanks Europe
New Click to Play system !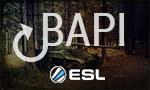 Commanders,
Are you ready for the best news of the month ?
Recently, we've announced the introduction of the Battle API in our Go4WoT and now we are announcing the introduction of a simple click to play system within BAPI that will help even the newest players start their eSports journey on ESL.
Click to play system
From now on, since the moment the bracket is live, you have the option to join directly into the game through Wire with a single click.
To do that, you have to go to the match page and click the "Start WoT with ESL Anti Cheat" button as seen in the screenshot.
Once you click the button,
the game will start automatically through Wire
and you will only have to join the special battle and ready up with your tank!
What happens if?
Here are some questions that you might have when it comes to this new click to play system.
What happens if I don't have Wire installed and I click the button?
You will not get any reaction from clicking it. You still have to install and to configure ESL Wire for World of Tanks.
Here's our special guide that will help you to do that!
Is the button there forever?
The button will disappear when the match is closed. If the match is re-opened for any reason, the button will appear again.
Is the button connected with BAPI?
No, the button is not connected with BAPI in anyway. It simply launches the game through Wire while being connected on that match.
Who can see that button?
Only the players that are participating in that match are seeing this button.
When will this change start?
This change will be applied in all leagues and cups that use Battle API starting today.
Follow us & spread the word
Like us on Facebook
And follow us on Twitter
Tweets by @ESLWoT
We wish you good luck and have fun playing in the ESL.
Tell us what you think about this news in the comments!
FoaMeA
, Wednesday, 12/08/15 11:56

No comments yet.

Information:
info write comment not allowed