Announcing Nations Challenge 2017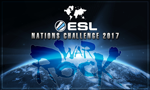 Today we are announcing this year's Nations Challenge, where we will determine which country is the best! Expect the greatest War Rock players, grouped in their national teams, to put up a real fight in order to defend their flag. Prepare yourselves for this upcoming tournament!
Information
The upcoming Nations Challenge 2017 will start at the ending of April, as soon as all teams are ready to compete. It will start with a groupstage and end with playoffs. Every team will have 1 match per week. The default date for this match will be Sunday 21:00 CEST. The amount of national teams will decide the groupseedings, we are hoping to get as many teams as possible.
Conditions are the following ones:
Name
» Country .WR
Teamsize
» 6 to 12 players
Team Conditions
» All players must live in the country they're playing for*
» Not more than 40% from a single ESL team**
* If a player can prove his nationality, and is a
Trusted Player
he can play from outside of his country
** Exceptions can be made for smaller countries
Admin staff reserves the right to accept or to reject a team, if the team does not follow the conditions mentioned above.
How to become a Team Captain
The Countries are split into 2 groups - teams ran by national sections and teams run by Global section.
Do you want to become the Team Captain of your Country?
You have to contact us by creating a support ticket. Before you do that, please read how your application should look like:
Title: Team Captain application *NAME OF COUNTRY*


Your name
Your age
Some information about yourself
What are your qualifications for the job of the team manager?
Why, of all people, should you be the one becoming team manager? Why do you think you are the right person for this job?
One team with the players who are already ready to play for your country


Requirements for Team Captains

At least 16 years old

Clean ESL history

No flamer, no penalty points for offense(s)
Please note that all players, including the team captain, have to be residents of the country/region they would like to represent and in addition they have to have valid citizenship which the ESL reserves to approve by requesting personal ID card copies at any time, if needed inasmuch as fiddle might be in prospect.
Prizes
The three winning teams will receive a special ESL award, some Premium prizes and of course also some exclusive ingame prizes for their success:
ESL Premium & Awards
| | |
| --- | --- |
| 1st | 6x3 Months ESL Premium |
| 2nd | 6x2 Months ESL Premium |
| 3rd | 6x1 Months ESL Premium |
ESL Discord WarRock

For any questions or problems you can open ticket or ask an admin in the WarRock Discord

Join WarRock Discord


Information:
info write comment not allowed