Section closed!
The game is no longer available on ESL Play. If you want to play the game on ESL Play, please get in touch with us through
Support
.
About Warface
Warface is the ever-evolving, free-to-play online first-person shooter from Crytek, featuring a competitive multiplayer gaming across a wide range of modes. Find out more at
the official website
.
Play through ESL Play App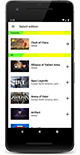 Play on the world's largest competitive gaming platform directly from your mobile device with the
ESL Play App
. Sign up for cups, get information about your matches and report your results! Don't hesitate to share your feedback with us.
Download the ESL Play App