Unreal Tournament Europe
Easter Cups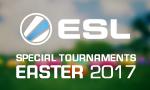 The Easter holidays are almost there. So it is time for an Unreal Tournament Easter Cups that will be held on Friday 14th and Monday 17th. In these cups we will use plain old Single/Double Elimination brackets instead Swiss type we are usually using, so put your Easter eggs in your basket, pick up your guns and join us for some Unreal action!
Who can participate?
This event is open for all teams no matter what region or skill level. The matches are however being held at EU friendly times and matches will be played on EU located servers unless both teams agree on something else.
How do you sign up?
All you need is an account on play.eslgaming.com and your EpicID added to your profile. These events are scheduled as a
3on3, team versus team
and a
duel
tournament. That means you are only allowed to join if you are in a team and have atleast two more team members with their EpicID added to their profiles or you are solo in a duel tournament. Thats all, once you got those things done feel free to signup for the Easter Cups.

UT Pre-Alpha 3on3 Elimination Easter Cup 2017 Europe
on April 14th, Friday, 20:00 CEST
UT Pre-Alpha 1on1 Easter Cup 2017 Europe
on April 17th, Monday, 20:00 CEST
Prizes?
Is there anything to play for? Besides respect from the community, domination or just to have some fun? Yes! The easter bunny has a special award packed for you and the following prizes can be won:
The winning team (in duel winning player) will get this exclusive Easter Cup Award. The Award will be displayed in the team profile, not in the profiles of each team members.



1st place:
2 month

Premium


2nd place:
1 month

Premium
* please note that the Award will be only given if at least 8 contestants participate
Double XP during Easter Time
Furthermore, all active players will double their XP gain for all matches played between 13th April and 17th April.
Info & support
If you have any queries or questions, please don't hesitate to contact us via Support Ticket or join our Discord.
Pickup games
If you're looking to get involved in some of the action leading up to the cups, why not check out
UnrealPUGs
Discord for even more Unreal action!
Vote for more ladders in forum thread.
Your

Admin Team


Information:
info write comment not allowed