TrackMania Global TrackMania 2 Stadium
Nations Dirt Cup 2015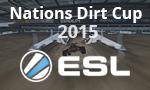 The Nations Dirt Cup is back for the TM Dirt Community!
History

France
is reigning on the Dirt scene since NDC 2011 and won the last one against

Sweden
.
Who will be able to dethrone them? There is a lot of contenders who would like to be crowned!

Sweden
wants to get back the trophy won in the 1st edition in 2010.

Belgium
and

Italy
were respectively 3rd and 4th during the last edition and aim even higher for this year, while

Germany
probably wants to win in 2015 in order to forget last year misadventures.
In order to attract more nations, we changed the format to a 3v3 for this edition.
Also, players with several nationalities who drove for a nation before would be able to drive for the other one if they fulfill the conditions!
Look below for more explanations.
NDC 2015

Each nation must register before the (25th November 23:59 CET)

Nations must be composed of 5 players MIN and 12 players MAX.



Nations are not allowed to register several Line-Ups.


There is no mercato (playerchange) during the whole season.


There will be 2 or 4 groups, depending on the number of registered nations. France, Sweden, Belgium and Italy will be the 4 seeds, thanks to NDC 2014 results.


Each match will be played in 3v3.


There will be 3 maps during groupstage and 4 maps during playoffs, 7 pts/map (tennis mode only during playoffs), team mode.


The victory depends on the points and not on won maps (a draw is possible during the groupstage / in case of draw during playoffs, a deathmap will be played in 5 points (without tennis mode))


Default date for a match is Sunday @ 21:00 CET. Teams are allowed to organize their match before this default date.


New mappacks will be released here each sunday night.


If we don't receive enough good maps, some old ESL maps could be used.


Cuts are not allowed!


During practicing, each player finishing with a cut on a private or an official server will be banned for one match (after admin checking)


In match, each player finishing a map with a cut will be banned from the competition, and his team will lost this map by forfeit (7-0)
Warning : New rule !
A player with dual nationality (only if this status is valid) which drove with a nation in past NDC(s), and which couldn't participate last year because his nation didn't register, will be allowed to join his other nation if his first nation still doesn't registered this year.
(example : Arrow (LUX/BE) participated in NDC 2013 with Luxembourg, but couldn't drive in 2014 because Luxembourg didn't register. After one year without driving NDC, if Luxembourg doesn't register in 2015, he will be allowed to drive with Belgium)
NDC 2015
Schedule

Registration deadline: 25nd November 23:59 CET
Team lock: 25th November 23:59 CET
Matches generated: 26th November

Groupstage:
Day 1: 26th November - 9th December
Day 2: 10th December - 16th December
Day 3: 17th December - 23th December

Playoffs:
Quarter (if needed): 14th January - 20th January
Semi: 21th January - 27th January
Grand Final: 28th January - 3rd February

Map restrictions

Round Style / 100% Dirt Map (or as close to 100% as possible)

Length: 55s => 1min30
Mod: Sunrise / Day (Sunset and Night are forbidden)
Planets: < 3200

Tag: ESL
Name: Use what you want for "name", as long as it isn't a team or playername (and not similar either!)
Mediatracker: Intro/GPS OK. Not more.
Signs:NEW ESL Signs (please DO click on this link!) and follow its guidelines (dynamic signs!)
New blocks: Feel free to use the ESL Competition Title Pack

In case you use the title pack, the signs are included in the pack.

Warning: Hexa modifications (blockmix) are authorized but please do it correctly, no hole, no strange mix and use it for anti-cut for example.

No password: maps will be tested without original name and author name.

Our description of a great Rounds map is:

The risk of bugs (including landing bugs) should be as low as possible. A good run should have close to 0% risk of bugs.
It has a nice flow where the speed and turns and jumps all feel fluent and intuitive.
Difficult passages are placed in low or medium speed sections, with a chance to repair a mistake without loosing too much time.
High speed sections should be of easy or medium difficulty.
Well placed CheckPoints, and no cuts possible.
We prefer medium speed maps (but we can/will mix in a few high- and low speed maps too).
No boosters please, we simply do not like them!
No difficult, crucial gear changes that makes you loose or gain alot of time just depending on if you manage to gear up in time or not.

If several maps score the same total point in evaluation, we will more often choose the longer maps.

NEW EMAIL ADDRESS
As the site and the intern organisation changed, we have a new form of the email we are waiting your maps for!
tm.maps@staff.eslgaming.com
Deadline: 31th November
ESL Competition Title Pack
The Stadium Competition Titlepack is a game addon powered by you and ESL and is intended to be the base of many different tournaments.
The latest edition has just been published, and it has some new features. You can find out all the current information about it
by clicking here
.
Server configuration files for Competition titlepack
In case you have a running server and want to upgrade to the title pack, we have created an upgrading pack for you, which is available
here
. You can get help from the ReadMe file.
Stay informed!
Your

Admin Team
jack
, Tuesday, 27/10/15 19:25


Information:
info write comment not allowed