TrackMania Global
Trackmania to leave ESL in June 2018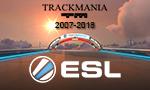 After 11 years, the uncrowned king of car simulation games with its potential withdraws from the platform of the Electronic Sports League.
Reasons
Esports
Everyone could possibly sense the change in the world of esports since already 5-6 years. In the world we live in as gamers, Trackmania cannot really compare to the highest level of people involved. Several big organisations decided to drop their legendary TM squads, to cancel the Trackmania competition in their LANs, player legends are leaving, which simply doesn't help in keeping Trackmania as a part of the worlds biggest esports organisation, Electronic Sports League.
The quality standards which form ESL since a long time, now is unfollowable with the small community which Trackmania can show up. Despite its potential, the world turns, people change, and that is alright.
Administration
There were numerous times when we asked for your help to make the activity grow here, in whatever game, or modes, we believe we made almost everything possible for our admins.
However today, with the Trackmania Esports Organisation, we can see a lot of admins running their own tournament, many times overlapping each other and not letting for players to have some rest. The diversity is always a good thing, but sometimes it ends up killing legends, such as - as we think - more than 10 years old series of successful tournaments, for example the ESL TM premiership system, or the Country Championship aka Stadium Nations Challenge. We love these tournaments but cannot force it when we have everything else around, supported by money/other organisations. However do not think this was a reason to stop, it is only one aspect.
In short, the more help we needed, the less we got, also the more tournaments have been announced elsewhere. We took this as a sign.
Prizes
Money is a tempting instrument to push your cup for the pro scene, while there are thousands of other players to be kept engaged. We always tried to offer games for everyone, where, we believe, there is no sense to put prizes in.
For years, Trackmania was part of the ESL Major Series. Those times were still uncomparable to the world of esports today, but actually, everyone who can recall those times, we all considered it the online world championship for Trackmania.
Once more, ESL run a prized tournament, a Go4 Trackmania some time later, but since then, no other partners supported the game anymore.
Since ESL a platform which offers opportunity to partners, we had no possibility to run after companies and beg for money. But as it was said above: we more and more believed to offer gaming to everyone.
Things we are proud of

Started TM as soon as it was possible back in 2007

Founding the premiership system

Announcing ESL Major Series Trackmania

Preventing you from cheaters, fakers with fair signup /profile system

Running Country Championship/SNC to gather players together

Continuous improvements on the premiership rulebook

Go4 Trackmania

Leaving TMNF behind and pushing TM2

Developing TM2 Stadium with the Competition Titlepack, giving new tools and a whole new empire of your imagination

Establishing the Competition Campaign for reaching new possible players - soon™

and finally, letting some more space for even better tournaments from 2018 on
Thank you
We would like to thank everyone for their support and that you chose us in the previous 11 years. Big thanks goes also for our Community Management, for our former admins and our current admins.
So how will it happen?
The Atlas RPG Cup will still end normally. During this time, we will wrap things up, and will talk with the current admins how to go on after this point.
There are numerous questions/problems to solve, which will be taken care of in the upcoming month. Tournaments we created, game addons (aka Competition Titlepack), sofficial signs, etc.
In case we know more exact information about these things, we are going to inform you. Should you have questions, leave them here under the news or in Facebook/Discord.
Stay informed!
Your

Admin Team
Rasque
, Friday, 13/04/18 06:51


Information:
info write comment not allowed