Atlas RPG Cup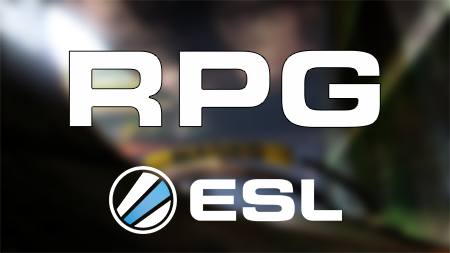 ESL presents its first and longest RPG team cup for the spring season 2018!
Information
The cup will use 11 new RPG maps.
Each map will get used for a special event.
We have 4 types of events : Time attack, Rounds, Knock out and First finisher.
The rounds for te cup will take place on a weekly basis… 1 map/cup per week, except for Week 3, where 2 maps will be played instead of one -> Find the planning of the event below.
Each team will be composed of 3 members, however, the events themselves won't be driven in team mode, but in solo. At the end of each event, we will calculate the result of your team by the average of the 3 members.

Example
: in time attack your team members finish 1st, 3rd and 5th… then the result of the team is 3. (1+3+5=9 and 9/3=3).
Thus:

The important result is the ranking and not the time !

If one member can't play an event then we consider he is last during all the rounds of the cup. The ranking number of the last players will be decided after knowing the registered players' number.
Schedule
The cup begins on Saturday, 24th March. The map which will be used here will be released on 18th March.
ATTENTION
: the separate cups will not have a regular date/time; they may change because of other sunday events. This means, some rounds can happen on Saturday, or any suitable time on Sunday.
To make sure you are allowed to participate, you need to sign up for the event, which you can do below:
The deadline for sign up is
Sunday, 23rd March 23:59 CET!
Start: 24th March (Rounds)

Adding players is possible until 23rd March 23:59 CET, then teams will be locked!
Season end: planned for the end of May
Sign up your team for the Atlas RPG Cup
Once you signed up just join milkyway server :
maniaplanet://#
[email protected]
@tmrpg
Lost account on ESL, forgotten user entries?
In these cases
please do not create new accounts, because you will not be able to use your already registered maniaplanet login!
Ask help with a
support ticket
.
If you cannot enter to ESL, you can still write one!
Schedule in table
ATTENTION
: the table starts with Sunday first!
Cup progress on ESL site
The cup you can register to, is the
overall cup bracket
, which will be filled after the end of the whole tournament, based on your rankings.
The 10 weekly events will get an own cup bracket, which will be also filled after each cup round.
You do not have to register to these ones, only to the main one (link above)
.
We have a separate google sheet too, where you can follow you teams rankings throughout the competition. You can visit this spreadsheet by clicking
here.
Prizes
The team getting the best rank, and winning this tournament will get
90.000
planets!
Thank you
We would like to thank all mappers that made an insane job building those maps ! It maybe seems like nothing but it is a lot of work.
Also, you probably know that these maps got built at first for a map contest and its results should come out soon.
We hope you all will have a lot of enjoyment with the ATLAS RPG CUP!
Stay informed!
Your

Admin Team
Rasque
, Tuesday, 06/03/18 18:02


Information:
info write comment not allowed