TrackMania Global
Competition Title Pack - v0.3 is here!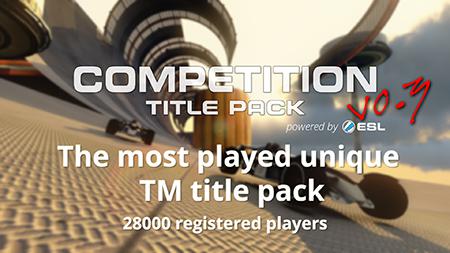 After a long period, it is time to share a major update to the Competition Titlepack! We really hope these new features will open some new dimensions for the competitive and casual gameplay. Lets see what this update is about!
Competition - the most wanted title pack
By now, the Competition Titlepack made it to the top of the unique Trackmania Titlepacks with over 28.000 registrations, leaving behind even the legendary RPG title pack!
Thanks to all who are supporting our work and make us believe that Trackmania has a future on the Maniaplanet way. It is great to see the general use and support of this title pack.
We hope that this update will make the titlepack public grow in even bigger steps.
What is new?
Basically the menu and its code hasn't been touched, since the first major update is planned when Maniaplanet 4 is out. A slight fix might come sometime later to fix API problems regarding the ESL League Tracker.
However, regarding the editor, we have
over 300 new blocks
to offer! This may sound a bit much, but they are properly ordered so you cannot lose yourself within the editor.
NOTE
: some modifications regarding the order can be performed later on, to reduce the row length.
Here we present the most important categories of the new items.
Checkpoints
Even some more starts, checkpoints and finishes were added, all with a king size version (double wide) extended!
Small tip
In case you want to use these CPs on the ground surface, you might need to manually fix the height of them in order to make them placed correctly on the surface. To do so, keep pressing Q to search for the precise height. Each of these blocks have 3 levels.

New steep-platforms
After having the platforms with smaller angle (~15°), we added ones around 45°, with all extensions: curves, turbos, also with transitions into each other.
Individual colours were added to each type so you can see which one you are picking. It also makes it easy to see which transition block you need when changing from one to the another type.
Additionally, there are some realizations of old road hills now in platforms, such as these ones:
Bugfixed old elements - extended
Forget about the bugs provided by the blue borders and the
good
old ramps! The bugfree versions are extended with some more sizes as well.
Loops/walls
New loop sizes and variations have been added, separately to connect to road and platform. Here you can find all the suitable loopings for your platforms - just check the matching colour and pick a size.
Tunnels in dirt hills
Maybe one of the most exciting features, based on a very old request, now is available to use!
How to use it?

1. Compose and place your tunnel entry.

2. Build a hill (a complete one) with the hill tools (
do not use the default terraforming blocks
) around your entry.

3. Complete the tunnel by placing the exit and making the hill fully closed (holes are not nice).
Right now, basic dirt and platform straights and turns are available.
Dirt roads
Some dirt roads added here too (some based on regular asphalt roads) to ease your building process and to add some new content to your dirt/hill/tunnel creations.
Deco: pole variations
As the name says, some more additions to the pole pool of the editor.
Presentation video
Lastly, here is a small video, presenting some of the new major contents of the title pack update, by the block creator
skyslide
himself! Enjoy!
I want it, now!
You can simply enter the game and just let it updated.
We hope you all will enjoy it!
Stay informed!
Your

Admin Team
Rasque
, Tuesday, 27/12/16 21:31


Information:
info write comment not allowed