TrackMania Global
CSP2/CTP3: Maprequest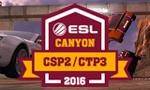 After the Summer break we'll be organising two premierships with new maps which are made by the community! We hope you'll be helping us out again with lots of maps, so we we'll be having great ones to drive the tournaments on!
Maprequest
Of course we're going to need maps to play this premiership on. Therefore we like to ask you to help us out, send us your best maps which comply with the following requirements:
Mapname: "ESL - Name"

Add the spaces around the "-"
Start your mapname with a capital
Team- and playernames (exact or similar) are not allowed in the mapname
No special signs are allowed in the name

General requirements

Maplength: 50-65 seconds
GPS, intros and outros are forbidden
Give the map a delicate and nice outlook

Blockusage

Use a range of blocks, avoid only using platform and GP-blocks!
Embedded blocks are allowed (preferably not as scenery)
Placing checkpoints backwards is forbidden
Blockmixing is allowed, if it does not produce graphical glitches or driving bugs
Add a podium to your map!
The scenery is up to you (make sure it doesn't produce lags, lighting problems or graphical bugs!)
Avoid blinding tunnelexits and too dark sections!

Sign usage

Use of the ESL signs is mandatory!
Follow the guidelines in the announcement
Make sure you have all signs work properly (check the dynamic signs!)

Map availability

The map has not been used in any competition before
The map is only known by yourself
The map is not uploaded anywhere
Send the maps, together with a replay, to the following mailaddress:


tm.maps.canyon@staff.eslgaming.com
In order for us to be able to find all of your maps in our mailbox, we urge you to use "Maps - CSP2/CTP3 - *your nickname*" as style for your mailsubject.
The deadline for map submitting: Sunday, 4th of September!
Maptesting: what's in the name?
Every tournament you'll dislike a map or mappack, find a (easy) cut and also like maps and find them good to drive on. For one tournament we have to "throw away" good maps because we have too many, for others we (sadly) have to pick lesser maps because we don't have enough.
Apart from checking if a map complies with the requirements, rating maps is a subjective thing. Your opinion of a map might be different to someone elses. For that reason we always make use of several community members who help out with rating maps. Based upon their scores and mappack-recommendations, maps are picked and packs formed. It is not something that you do in an hour, it takes real effort to test all maps when they come in and provide the ESL staff with usable comments. It is therefore also not a strange occurance for a cut to appear when (heavily) played by you, the players. We try our best to avoid this and it certainly causes some stress when you do find them.
If you feel like you can provide good ratings and comments and have some time to spare in the upcoming month, please contact
TheM
. Either by
support ticket
,
mail
or Discord (TheM#6588).
Stay informed!
Your

Admin Team
TheM
, Friday, 29/07/16 14:45


Information:
info write comment not allowed