3on3 SpeedFun Cup #1 *pack #5*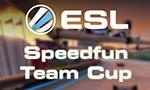 Finally Speedfun found it's way to the ESL. Thrilling matches and big clashes will be awaited for this new section of the ESL. Here, we provide you with the latest update and news about this tournament:
3on3 Speedfun Cup #1
3on3 Speedfun Cup #1


Slots: 32 Single elimination
Start: 15.05.2016 21:00 CEST
Sign-up start: 11.04.16 12:00 CEST
Sign-up end: 08.05.16 20:00 CEST
Support: Ticket!
Rules: click!
Teams must be composed of 3 players MIN and 4 players MAX.
Teams are allowed to register several lineups.
There is no mercato (playerchange) during the whole Cup.
Each match will be played in 3v3.
There will be 3 maps in every final/week, 7 pts/map , team mode.
The victory depends on the points and not on won maps (if there is a draw, maps won will decide the winner).
Default date for a match is Sunday @ 21:00 CET. Teams are allowed to organize their match before this default date.
New mappacks will be released here each sunday night.
The Maps
Thank you everyone for sending in your maps, we've got six packs set up and ready for releases, the first of which is already here:
Pack #1 - RO32
ESL - Redox
(Alex)
ESL - NOSW
(Lurk)
ESL - Rio C
(quao)
Download
Pack #2 - RO16
ESL - Omega
(Alex)
ESL - Welps
(DeDe)
ESL - Left
(Flitzr)
Download
Pack #3 - Quarterfinals
ESL - Looters
(ddbb)
ESL - 5th Element
(paki)
ESL - Cookie
(Lurk)
Download
Pack #4 - Semifinals
ESL - Limits
(Schlitzer)
ESL - Scarf Factory
(Monitor)
ESL - Kraut
(RachoVolker)
Download
Pack #5 - Finals
ESL - Rueben
(RachoVolker)
ESL - SoulFrog
(Monitor)
ESL - Obazda
(RachoVolker)
Download
Training Server
All of the maps are available for training as well on our public server, feel free to hang out on it whenever you like.
Join the public server
Discord
Who said the community was split? Let's glue the broken pieces with this awesome platform called
Discord
.
This application lets you create your own servers aswell, while being on the same platform to reach anyone in our scene, in text and voice channels as well! It is working on the web if you wish so, but it comes with Windows, Mac, iOS and Android app versions as well! You can never lose the touch with your mates anymore.
Join the Trackmania Discord server now!
Stay informed!
Your

Admin Team
Moux
, Sunday, 05/06/16 14:24


Information:
info write comment not allowed