TOXIKK Community Cup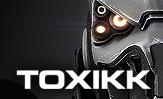 We are pleased to announce the very first TOXIKK Community Cup on the 15th of January. Make sure to sign up for the first tournament and compete against other players.
TOXIKK – Old school cool meets new age polish
Ever miss the pre-Modern Warfare days of FPS, back when chaos was the rule in online slaughter houses such as Quake III and Unreal Tournament? TOXIKK is the game for you.
Forget the modern trappings of customizable loadouts, character classes, and cover systems. Put all your faith in your aiming reticle, forget about reloading, and pray for that well placed med-kit. TOXIKK is all about keeping it old-school.
The mission was to reinvigorate the FPS genre by taking it back to it's online deathmatch glory days, and TOXIKK delivers. Frantic action, mechanics that are quick to learn but difficult to master, and a commitment to staying true to the genre's roots have come together to create the best 1990's FPS released in 2016. Modern graphics and a PC-focused development deliver screaming fast pace and beautiful performance you expect from the FPS games of old, but without the ugly polygons only nostalgia glasses could see past.
A true example of the best aspects of modern gaming mixing with the values that made retro shooters great: skill based gameplay and an even playing field. You won't win based on a exploitative build, your DLC, or some character class. Only skill separates the winners from the fragged. Forget your console gamepad, TOXIKK is utilized for the Mouse and Keyboard crowd. With new updates released frequently, full Steam Workshop integration, and an active community of players and developers, TOXIKK is just what the modern FPS genre needs: Old School Cool.
You can now test your TOXIKK skills online with ESL Community tournaments. Frag, or die trying, against some of the best players in Europe!
Feel free to join us in this great new journey by signing up for the first ever TOXIKK tournament on Sunday, January 15th!
Powered by
Reakktor may be a self-financed indie studio, but every team member brings at least a decade of experience in professional game development to the table, is passionate about what he (or she) does and dedicated to delivering a high quality game experience.
Founded in 1991 by Martin Schwiezer, the team developed over a dozen of PC and online games like e.g. Neocron (the world's first cyberpunk MMORPG and also the first MMO to merge real-time FPS and RPG elements).
Sims
, Wednesday, 04/01/17 09:56

No comments yet.

Information:
info write comment not allowed