Play through ESL Play App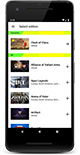 Play on the world's largest competitive gaming platform directly from your mobile device with the
ESL Play App
. Sign up for cups, get information about your matches and report your results! Don't hesitate to share your feedback with us.
Download the ESL Play App
Sponsor

Riot Games dünyada en oyuncu odaklı oyun şirketi olmayı hedeflemektedir. 2006 yılında oyuncu odaklı geliştiriciliğin muhteşem oyunlarla sonuçlanacağına inanan bir takım girişimci oyuncular tarafından kurulan Riot Games, 2009'da ilk yapımları olan League of Legends'ı oyuncuların beğenisine sunmuştur. Her ay 67 milyondan fazla oyuncu bu oyunu oynamaktadır..