Play through ESL Play App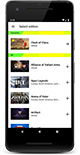 Play on the world's largest competitive gaming platform directly from your mobile device with the
ESL Play App
. Sign up for cups, get information about your matches and report your results! Don't hesitate to share your feedback with us.
Download the ESL Play App
Patrocinado por

Riot Games aspira a ser la empresa de videojuegos más enfocada en el jugador en todo el mundo. Riot Games se fundó en 2006 por un par de jugadores emprendedores que creían que el desarrollo de videojuegos centrado en el jugador podía resultar en juegos impresionantes. En 2009, Riot Games lanzó su primer título, League of Legends, con un gran éxito en críticas y jugadores. Ahora más de 67 millones juegan cada mes.