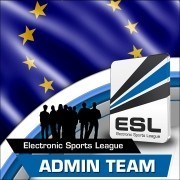 ( Archived)

Why no EU Versus for Wot?

( Archived)

hey Admins..i have no words to describe what happend on go4wot 131..thats is realy not ok and i am an admin on Croatian game portal and i will give my best to rate ESL eu badest grade that i can..i think you all know what is a problem..
and i buyed esl premium..what an idiot em i..



( Archived)

Dear Admin. We in the Swedish vikings 2 would be happy to take a break over the summer and start playing in august again! The only question is how to go about doing right? Sincerely Mojje

( Archived)

I can not add to the account named esl 4404.
account being used by someone else writes.
Could you help?

( Archived)

English !!! international

( Archived)

hallo.were schön,wenn spieler die sich zb beim fun-cap nicht an die regeln halten-und auch reportet werden- vom zb fun-cup ausgeschlossen werden.ist mir und meinem clan-kumpel schon passiert-nach game-ende reportet-nix passiert-unfairer spieler kommt eine runde weiter-faire spieler fliegen raus.ich meine im speziellen das nicht beachten des kampf-gebietes.