Quick Rules
Region: Europe
Results: Both players can enter the score
Replays: Both players can upload the replay
---
Cup Settings:
Early rounds: Best of One
Quarter: Best of three
Semi: Best of Three
Finals: Best of three
Map rules: Every round has its own map
Mode: Single Elimination
Bo3 Veto: losers pick for game 2 and 3
Map Pool:
Acropolis LE
Disco Bloodbath LE
Ephemeron LE
Thunderbird LE
Triton LE
Winter's Gate LE
World of Sleepers LE
Chat
Looking for your opponents or need help?
Join our in-game chat channel through the commands:
/join ESL
. Access our
discord server
or open a
support ticket
.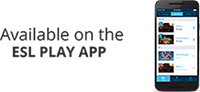 Help
Is this your first time? Here are the important steps:
Follow the instructions on the right to sign up and check in
If check in is enabled, make sure to check in on time
Wait for your first match to show up on the right
Get in contact with your opponent and play the match
Enter the result and ask your opponent to confirm
Wait for your next match
Still need help? During the cup, use chat if it is available, otherwise please contact support.
Match related issues must be handled via
match protest
.