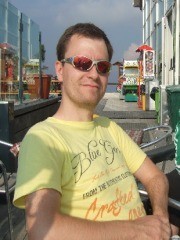 Contacts & Buddies
Name
Patrick 
Nick
FireStar
Member since
14/06/06
Age / Gender
35 Years / male
Nationality
 Germany
Country, City
Germany, Heidelberg  

(69xxx)

Occupation
Supply Chain Coordinator
Employer / University / School
WILD Flavors Heidelberg
Main team
Global Staff Heads
Homepage
http://www.talk.metroid-base.c..
📩 Admin since 2008 and Global Staff Head of Counterstrike.

📩 If you encounter any problems, you can contact me by writing a Support Ticket.  more...  
Level & Awards
Clubs
Recent matches
  CS:GO 1on1 Handgun Pimmal's Birthday Cup 2017 Germany
loss
TheDoctor 

0

Monday, 18/12/17 13:55
win
Pimmal 

+2

Monday, 18/12/17 13:40
loss
yNz''.de 

0

Monday, 18/12/17 13:25
win
rookya 

+2

Monday, 18/12/17 13:10
  CS:GO 1on1 HG Summer Tournament 2016 Europe
loss
BlizzaR 

0

Saturday, 30/07/16 14:45
win
(bye) 
Saturday, 30/07/16 14:15
loss
mj 

0

Saturday, 30/07/16 13:45
  CS:GO 1on1 Knife Fun Cup #1 Europe
loss
Vintage 

0

Wednesday, 27/07/16 14:40
  Intern

| | | | |
| --- | --- | --- | --- |
| loss | wAs  | Wednesday, 27/07/16 14:40 | |
| win | Duex  | Wednesday, 27/07/16 14:20 | |
Visited Events
Contact