StarCraft Global
Go4SC2 Spotlight: Strange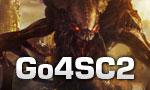 The Go4SC2 series is run by ESL as an ongoing monthly tournament ladder for StarCraft2 players who are looking to challenge themselves by competing against some of the best players on the ladder. Every month the sixteen players who won the most Go4SC2 points are invited to the monthly €600 Go4SC2 Finals. You can count on most of those invites to go to established professional players, but here we would like to highlight the underdogs, the dark horse contestants who slip under the radar despite the epic play that qualified them to compete against Europe's best.
Today's spotlight is on:
Strange


You may have heard of Russian Protoss Grandmaster Alexey "
Strange
" Solyakov before, most likely from his appearance at the
WCS Spring Circuit Championship. His WCS debut against
Polt


went to 6/5 games.
If you missed it, watch it
here
. And if you've seen it, it's worth watching again!
Strange
has been a familiar face in the Go4SC2 tournaments for a long time and serves as an excellent example of what hard work and dedication can achieve.
Competing and improving since Wings of Liberty,
Strange
has established himself as Russia's premier StarCraft 2 player in Legacy of the Void. Although he's rated as the
#1 Russian on Aligulac
, he probably has a way to go before he takes that title away from
Happy


officially.
Strange
has shown he certainly has the potential to do so, and his position as the #2 seed in
July's Month's Go4SC2 Standings will give a chance to live up to that potential at the
Monthly Finals on
Tuesday, 9th August 2016 at 19:00 CEST (10:00 PDT)
.
In July he never finished below the Round-of-Sixteen in Go4SC2 events, and complemented those Go4SC2 Points with two appearances in the finals and one tournament victory.
Go4SC2 Europe Cup #589: Big Winner
On Sunday July 10th
Strange
drew perhaps the hardest seeding in the 64-player bracket. Although he had a relatively easy passage through the first two rounds,
MaNa


was his opponent in the Round-of-Sixteen. But Strange made it through. Then it was on to
Lillekanin


and it all should have ended in the semi-finals against
Snute

. But some HotS-style Protoss convincingly stole game 1, steady defense and more colo play completely dismantled the ling-bane-hydra composition of the Norwegian Zerg.
Then it was on to the Finals against
Beastyqt


, who would turn out to be one of July's hottest players. Game 1 was a match of pressure of counter-pressure, with some dark templar goodness sprinkled in. Proxy reaper set the scene for Game 2 as a Stalker/Warp Prism pressure hit Beastyqt right as the Terran's cloaked banshee flew into the Protoss mineral line.
Strange
would walk away with the victory and €100 for being that week's Sunday Champion.
→ Catch the action packed VoDs (Snute onwards):

Pomi at GoodGame.ru
-

Wardi
Go4SC2 Europe Cup #591: True Rivalry
A week later, on July 17th,
Strange
was looking to defend his title as the champion of Sunday's Go4SC2 tournament. He had a hard fought run through the 68-player bracket, but eventually found himself back in the finals defending against
True


. It would be no easy task.
Strange
had played True in official tournaments twice before, but had not managed to take game off him. By the time the month was out, these players would know each other well.
In Game 1 True's Roach/Ling/Bane aggression hit right as
Strange
's adept pressure arrived at the Zerg base and a scrappy hold began on each end of the map. Unfortunately True's Ravagers broke the Protoss force-field defense and the game ended with a victory for True, and less than 10 workers between both players.
More aggression from True sparked an epic pylon wall in Game 2, but there wasn't enough overcharges to keep the ling rush out. Losing his natural base put
Strange
in a position he would never recover from.
Game 3 on King Sejong Station was
Strange
's last chance to take back the series. Phoenix opening was the play to open the game, but the Protoss could not manage to utilize his adepts with his air forces to mount any real effective pressure. The endgame compositions of Colo/phoenix/gateway melted to True's Corruptor/lurker/ling army.
Despite True's victory,
Strange
would walk away with another €50 and his spot in the Monthly Finals practically secured.
→ Catch the action packed VoDs (Strange vs True):

maralekos
Remaining Results:
For the rest of the month
Strange
stuck to the Sunday Go4SC2 events and performed admirably, making it to the Round-of-Sixteen at
Go4SC2 Europe Cup #591
, before falling to
Elazer


.
The last Go4SC2 cup of July,
Go4SC2 Europe Cup #593
, gave
Strange
a chance for revenge against
True


when they met in the Round-of-Sixteen. True opened with a mass ling agression through the backdoor rocks, but was countered by warp prism adept harass. The game was decided on a narrow ramp in a fight between gateway units, phoenix, immortals against corruptors, mutas, lings and roaches. It was a close fight, but True would take the map and move on.
→ Go4SC2 #593 Sunday (Strange vs True):

Wardi
---
Despite the hurdle that emerged in the for of True,
Strange
overcame some tremendous opponents this month. Especially considering he only took part in the Sunday Go4SC2 events, which draw relatively harder opponents thanks to the €150 prize pool. The Russian Protoss finished second in
July's Month's Go4SC2 Standings, only his Korean Zerg nemesis obtained more points this month.
Strange
has again proved that he is an elite contender, and this month's Go4SC2 finals will give him a chance to test his skills once again against WCS-caliber opponents such as:
Snute

, Lillekanin


, Beastyqt


, Bly


,
Guru


, TAiLS


, and True


Strange
will continue his quest to become the new face of Russian StarCraft 2 at the July Monthly Finals, and you can expect to see more of the Protoss wizard moving forward. Especially if he can upset some of the established names mentioned above.
→ You can find
Strange
on
Twitch.tv
or on
GoodGame.ru
---
Catch the Go4SC2 Europe July Finals live:
Tuesday, 9 August 2016 at 19:00 CEST (10:00 PDT)
GGs this month
Strange
 , GL and HF in the future!
Stay up to date, follow us!
Come say hello on Discord
Feedback
If you have any feedback - bad or good - about anything we are doing in StarCraft II then please let us know
in the forum
.
Good luck, have fun,
Your ESL Staff
Troy
, Wednesday, 03/08/16 12:25

No comments yet.

Information:
info write comment not allowed