Play through ESL Play App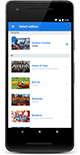 Play on the world's largest competitive gaming platform directly from your mobile device with the
ESL Play App
. Sign up for cups, get information about your matches and report your results! Don't hesitate to share your feedback with us.
Download the ESL Play App
Powered By
Hi-Rez Studios is an independent, privately held video game developer based in Alpharetta, Georgia, United States and was established in 2005 by Erez Goren and Todd Harris. Hi-Rez Studios' games include the third-person MOBA Smite, card game Hands of the Gods : Smite Tactics and the Hero shooter Paladins: Champions of the Realm.