Play through our ESL Play App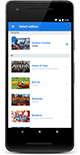 Play on the world's largest competitive gaming platform directly from your mobile device with the ESL Play App. Sign up for cups, get information about your matches and report your results! Don't hesitate to share your feedback with us.
Download the ESL Play App
Powered By
Hi-Rez Studios is an independent, privately held video game developer based in Alpharetta, Georgia, United States and was established in 2005 by Erez Goren and Todd Harris. Hi-Rez Studios' games include the third-person MOBA Smite, card game Hands of the Gods : Smite Tactics and the Hero shooter Paladins: Champions of the Realm.