S.K.I.L.L. Europe
ESL S.K.I.L.L. Open, Major & Pro League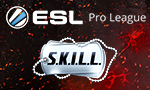 In May we are kicking off the first season of the ESL S.K.I.L.L. Open, Major & Pro League and today we want to present all teams for the ESL Major & Pro League. You can also still sign up for the ESL Open League, which will be your first step into your esports career. We wish all teams good luck and have fun competing in our new league system.
ESL Pro League
All eight teams for the ESL S.K.I.L.L. Pro League are known and we asked all of them to give us a small statement about the first season. Read
here
what they had to say and which teams we will see in the group stage.
ESL Major League
Congratulations to all ESL S.K.I.L.L. Major League teams and welcome to the first season of 2015. We already sent out mails to all players and teams with all details about the upcoming season.
ESL Open League
If you are not qualified for the ESL Major or Pro League, you can sign up for the ESL Open League. The ESL Open League will be open to each and every S.K.I.L.L. team - all you need to participate is sign up and play. Get your competitive career started and build up a reputation for you and your team through a season of group stages and playoffs. We will try to create groups by country/region, so e.g. the French teams can play against each other and have an easier communication within the group stages.
Start date:
Tuesday, 05 May 2015 20:00 CET
Check in time:
Saturday, 25 Apr 2015 12:00 CET
Late sign up:
Monday, 27 Apr 2015 12:00 CET
Check in/Late sign up ends:
Thursday, 30 Apr 2015 12:00 CET
S.K.I.L.L. – Special Force 2 is powered by


Information:
info write comment not allowed