Rocket League Europe
Go4 Europe Cup #25 Wrap-up!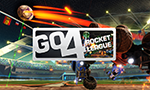 The Go4 Europe Cup #25 marks the halfway point in the battle for January's coveted ESL Monthly Elite and Champion titles, showing the return of some fan favourites, some new teams, and some that have fought hard to finally break through to top 8.
Quarter Finals
Match 1: The 3 Musketeers vs. Yep
To prove that their performance in the Go4 December Monthly Final was just a fluke, The 3 Musketeers would once again make their climb through the weekly bracket even while not having a full roster. They would face Yep in the quarter finals, who despite being a newly formed team, defeated Gold Rush on their path to this match. They would also prove to be a match for The 3 Musketeers, but would unfortunately fall short in game 5 leading to The 3 Musketeers taking this series 3-2.
Match 2: LoseMuchRating vs. Nope
Both of these teams have been unfortunate with seeding in the past, being matched up against previous champions in the first or second round. The fact that they made it to the quarter finals shows that each are on the upper tier of the Go4 tournament's skill level. Being the more experienced team, LoseMuchRating would prove that a well-practiced team dynamic is critical in 3v3 matches, defeating the less experienced Nope, 3-1.
Match 3: FireWall vs. Galactic Lions
Firewall would also want to prove that their performance in the Go4 December Monthly Final was a fluke, and had great success in this tournament to this point, but would need to go through Galactic Lions to advance. This Galactic Lions were that in name only, however, as the only true member was D3tin, the team captain. Despite this Galactic Lions being made of amazing players, Firewall would show that team play and coordination is superior to individual skill, as they took this series 3-2.
Match 4: Bootz 'n Catz vs. Team Rocket
Bootz 'n Catz are a team that had always been on the cusp of the top 8, but rarely managed to make it. Their recent performances in other tournaments have shown that they are steadily improving and are now contenders to be considered. Team Rocket, being one of the few teams that have stuck together amidst everyone else leaving/joining/creating teams, have more experience than any other in the Go4 Cup. This team dynamic and experience would lead them to sweep Bootz 'n Catz 3-0.
Semi Finals
Match 1: The 3 Musketeers vs. LoseMuchRating
After defeating their respective teams themed on simple answers, each team entered this something to prove. For LoseMuchRating, this would be a gigantic step forward if they could defeatone of the most dominant teams in recent Go4 Cup history. Unfortunately, even missing one of their members, The 3 Musketeers were still too much for LMR as they won this series 3-1.
Match 2: FireWall vs. Team Rocket
Oddly enough, these teams had never faced each other before. Team Rocket obviously have the experience advantage for this match, but FireWall have been putting in a lot of time to improving and it has definitely shown by the fact that they defeated Galactic Lions who they previously struggled against. Team Rocket would not be stopped on their resurgence to the top, however, as they defeated FireWall 3-1.
3rd Place Decider: LoseMuchRating vs. Firewall
Historically in the Go4 Cup, these teams average about the same placements. Although each time they have faced off recently, FireWall had emerged the victor. After some evenly matched play, FireWall would secure the victory in the final game taking this series 3-2 and 3rd place.
Final: The 3 Musketeers vs. Team Rocket
This would be the first time since Go4 #12 that Team Rocket has seen the finals, and they would not have an easy time of it, having to face one of the current top teams, The 3 Musketeers.
The first game between these two would be evenly matched and high scoring, with each team feeling out the other's tactics and tendencies. After a lengthy overtime, Team Rocket took advantage of a loose ball to secure the first game 5-4. The next few games would have a theme of taking an early lead and maintaining it for the remaining duration, with Team Rocket securing 2-0 victories in both games 2 and 3. The 3 Musketeers, being on the verge of elimination, would employ this tactic as well and get their own set of 2-0 victories in games 4 and 5. Game 6 would show more aggressive play from both sides yet not giving way defensively as this was taken to a 2-2 lengthy overtime. Each team had multiple amazing shots and saves respectively, until Doomsee could take advantage of a defensive scramble and claim the 3-2 game win, and the 4-2 series win for their second Go4 Weekly championship.
Coverage
Thanks go out yet again to
Roken91
for enthusiastically stepping in to cast while the ESL casters were indisposed. You can find the VOD of his tournament coverage
by clicking here.

No comments yet.

Information:
info write comment not allowed