Rocket League Europe
Go4 Europe Cup #23 Wrap-up!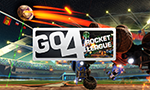 ESL kicks off 2016 with the 23rd installment of the Go4 cup! Featuring some amazing newcomers and a lot of your old favourites.
Go4 #22 recap
Since most of us were on holidays for Go4 Cup #22, here's a quick recap of the top 8 and how they placed.
1)Supersonic Avengers
2)Spectral
3)Team Solid
4)Crown & Jewels
8)The 3 Musketeers
8)Torched eSports
8)Invasion
8)Ikea Vikings
Coverage of the event can be found on Roken91's twitch channel
in
three
parts
and also on his youtube channel
in
three
parts.
Quarter Finals
Match 1: Crown & Jewels vs Ruled By Secrecy
Formerly known as PeaceHater, Crown & Jewels is a team that needs no introduction, being the most dominant team in ESL in the past few months. They would be facing a new team by the name of Ruled By Secrecy, who had taken out last weeks 3rd place, Team Solid, amongst others to make it into this top 8. Despite the players on Ruled By Secrecy's individual skill, it was Crown & Jewels' communication and play coordination that would give them the advantage and ultimately the 3-1 victory.
Match 2: Manteca_FC vs Gold Rush
Historically for the Go4 Cup, these two teams had never faced each other in the top 8, being on opposite side of the brackets most of the time; so this was quite the treat to settle the speculation of which team would win in a theoretical match based on their performances against other teams. Manteca would take an early lead in the series, but Gold Rush would finally exploit Manteca's defensive holes and come back to win the series 3-2.
Match 3: myXMG vs Lose Much Rating
We haven't seen much from Lose Much Rating in the recent Go4 cups, but their performance in other recent tournaments has shown that they are definitely on a resurgence. They would have to face the ever-improving myXMG, who have placed consistently high in every tournament they have entered. This time, myXMG would prove to be the more consistent team and sweep the series 3-0.
Match 4: The 3 Musketeers vs Spectral
Both of these teams have been dangerous competitors in the recent Go4 cups, with 3 Musketeers consistently placing high and Spectral coming off of a second place finish in last week's cup. Unfortunately for Spectral, even with their full roster present for this tournament, they were overwhelmed by 3 Musketeers who swept the series 3-0.
Semi Finals
Match 1: Crown & jewels vs Gold Rush
These two teams faced off in the Go4 Cup #20's finals, with Crown & Jewels taking the series 4-1. They would also take the early lead in this series with amazing defensive play. Gold Rush answered back with a win of their own in the third game, but Crown & Jewels would reinforce their seemingly literal wall in front of their goal and take the last game and repeat history by taking the series 3-1.
Match 2: myXMG vs The 3 Musketeers
With both teams coming from sweeping their previous opponents, morale was high going into this match. 3 Musketeers took the early lead in the series by capitalizing on an overly aggressive myXMG and converting any missed attempts by them into an open-net goal. myXMG then quickly changed up their strategy, much to their benefit as they would take game 3 but would unfortunately fall short in the fourth game where after an even score, 3 Musketeers would take advantage of a poor clear in the last minute of the game to secure a series win of 3-1.
3rd place decider: myXMG vs Gold Rush
Now this match has to be prefaced by the fact that a member of myXMG was not able to compete, making this matchup 2 vs 3. Despite this, myXMG still managed to take a game off the full strength and dangerous Gold Rush. Though inevitably, it was Gold Rush that took this series 4-1.
Final: Crown & Jewels vs The 3 Musketeers
Neither of these teams are strangers to the Go4 Cup finals, and had faced each other in the Go4 Cup #19 with Crown & Jewels (then PeaceHater) narrowly took the series with a 4-3 victory. 3 Musketeers have also improved significantly in the past month so this match was predicted to happen before the tournament began and much to the fans' delight, it certainly did. The first game had Crown & Jewels flying out of the gate and simply overwhelming 3 Musketeers with relentless aggression and winning 5-1. 3 Musketeers then responded with their own brand of aggression while still maintaining a good defence that would net them the game 2 win at 3-0 and game 3 at 2-1. Crown & Jewels would readjust their game plan and throughout game 4, tested their opponents with different tactic until they found the one that worked and they narrowly take that game 3-2. They would continue this strategy into game 5 and once again overwhelm their opposition 4-2 after 3 Musketeers scored a 0 second goal. The strategy adaptation would turn around yet again as 3 Musketeers took a dominating 4-0 victory in game 6. In the final game, both teams definitely gave their all but history would once again repeat itself as Crown & Jewels' amazing defence would give them the edge to take this game 3-1 and once again defeat The 3 Musketeers 4-3.
Well played to both teams, it was incredibly back-and-forth with no clear winner in sight until the final ball touched the ground. Looking forward to what these teams will be bringing us in the future and also most assuredly in the Go4 December Finals.
Special Thanks
A big thank you to Roken91 for stepping up and casting this event yet again whilst our ESL casters were still away for the holidays or in the midst of moving. You can find the coverage on his twitch channel in
two
parts
and also on his youtube channel in the same
two
parts.

No comments yet.

Information:
info write comment not allowed