ESL Rainbow Six FAQ
Do you have a question that isn't answered in this FAQ? Open a
support ticket
!
General information
Navigate to the tournament you want to sign up for
Click "Register" to register your game ID
Follow the instructions to link your gameaccount


How to play a match in a cup
Sign up & Check in
First you have to sign up for the cup. 30 minutes before the cup starts you have to confirm your participation by checking in.


Tournament tree
A few minutes after the cup starts, you can see check the tournament tree by clicking on Bracket. (In a SWISS cup click Ranking) You can follow your list of matches on the right, under Play. Go to the match page and ban your maps! To do this you need "orga" permissions in your team or higher. Scroll down to read more about the mapvote process.


Matchchat
To communicate with your opponents you can use the Matchchat. You find the matchchat by clicking "Matches" or in the ESL Anticheat client by clicking on your match.



Create a server
The team with the higher seed (lower number in the bracket) has to create the server. Now add one of the opponent players to your friendlist. Start your game (On PC via ESL Anticheat and with MOSS, more information below). Create a dedicated server with the respective settings of the Cup. You can find them in the rules. After creating the server you invite your team and your opponents.
Play your match and take a screenshot of the result.


Enter the result
After the match has finished, close your game and enter the result by clicking on "Match setup" at the Matchsheet. On PC you have to upload your Moss files as well, under "Upload match media"!




Protest
If there is a problem in your match you can open a protest and an admin will help you. To open a protest click on "Match setup" at the Matchsheet and now on "Open Protest". Please write your problem clearly and upload evidence so our admin team can help you as fast as possible.


How to request R6 Credit prizes
You don't have to do anything! The prizes will be sent via email, based on the players you used in your lineup during the tournament.

If you do not submit a lineup, you will not receive credits.
For tournaments and ladders, the system will randomly select a team to ban first. Teams alternate banning maps until there is 1 map remaining. The logic will be the same for all "best of" series. The chronological order in which the maps will be played is also determined by vote.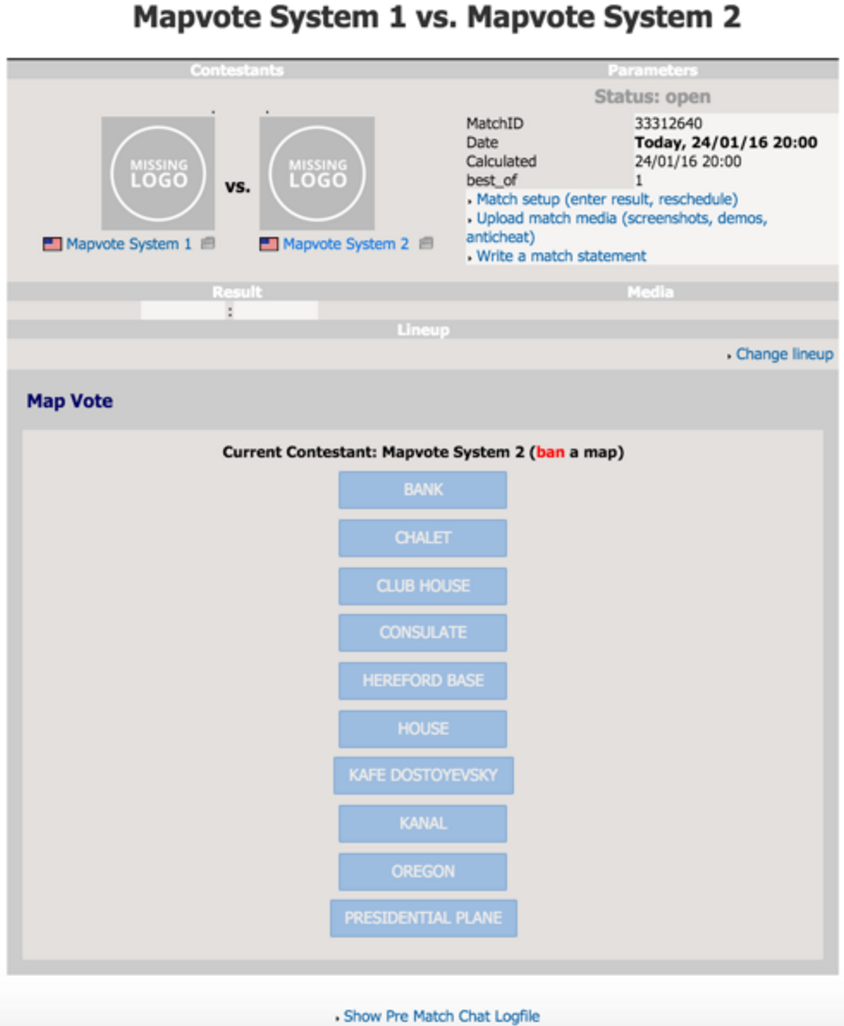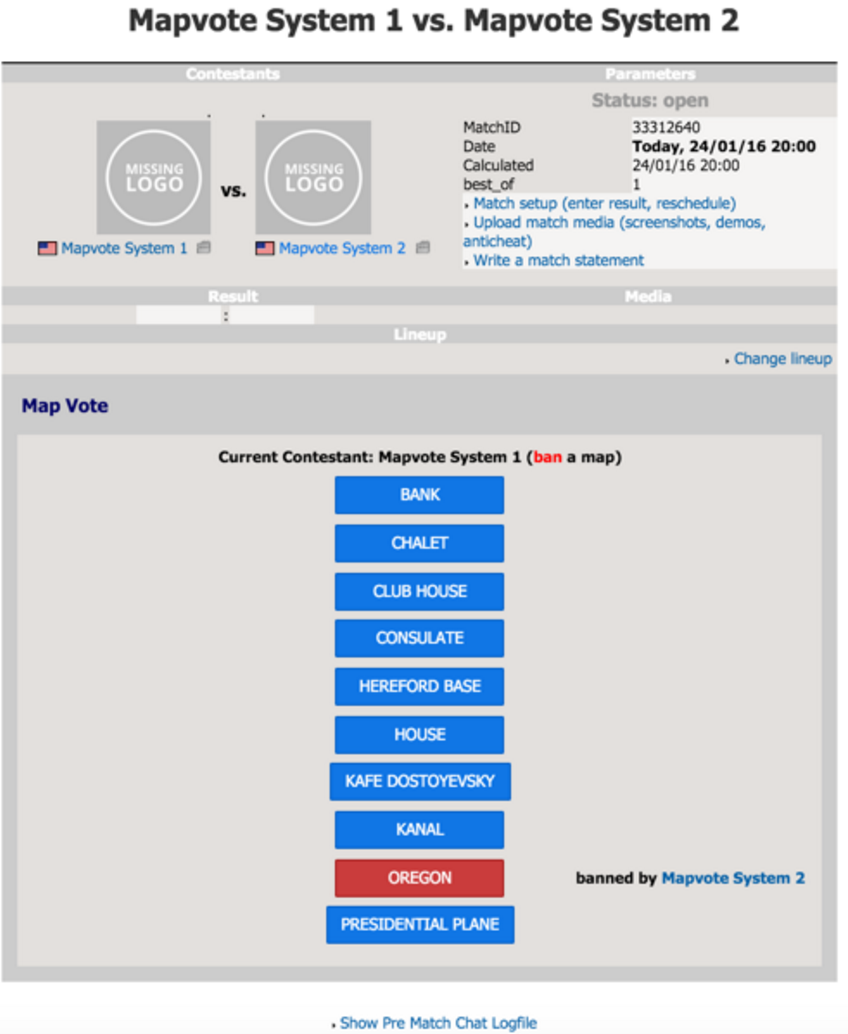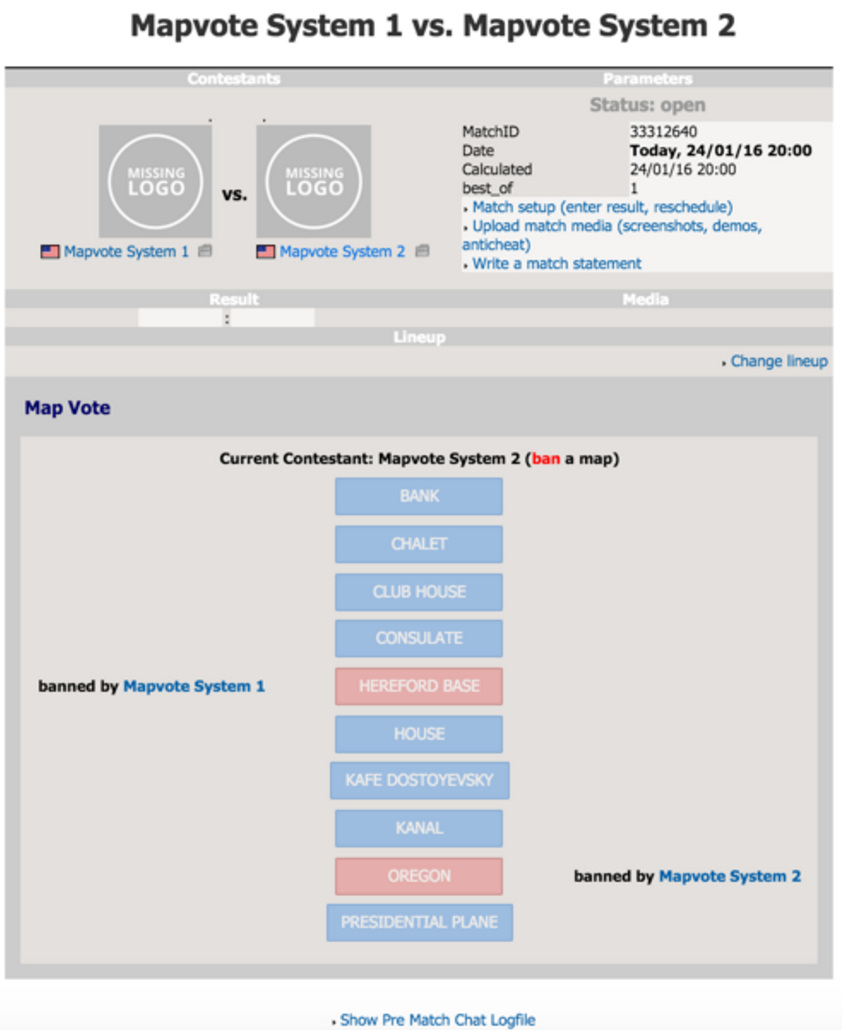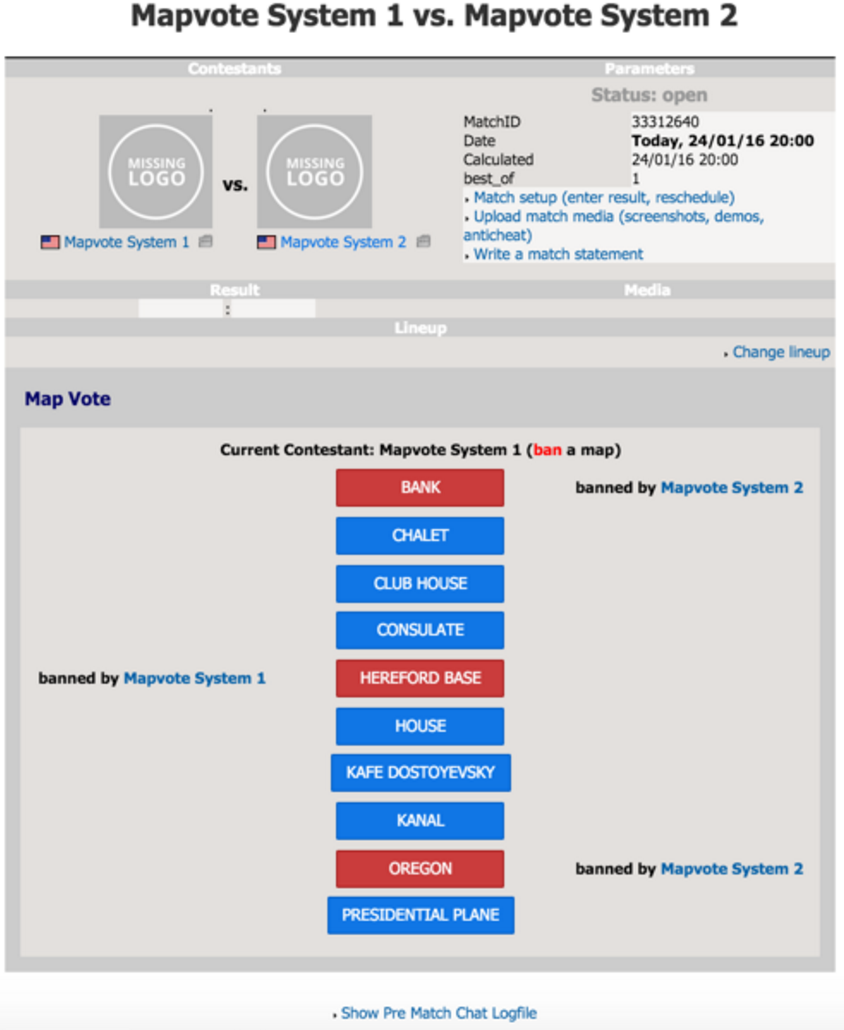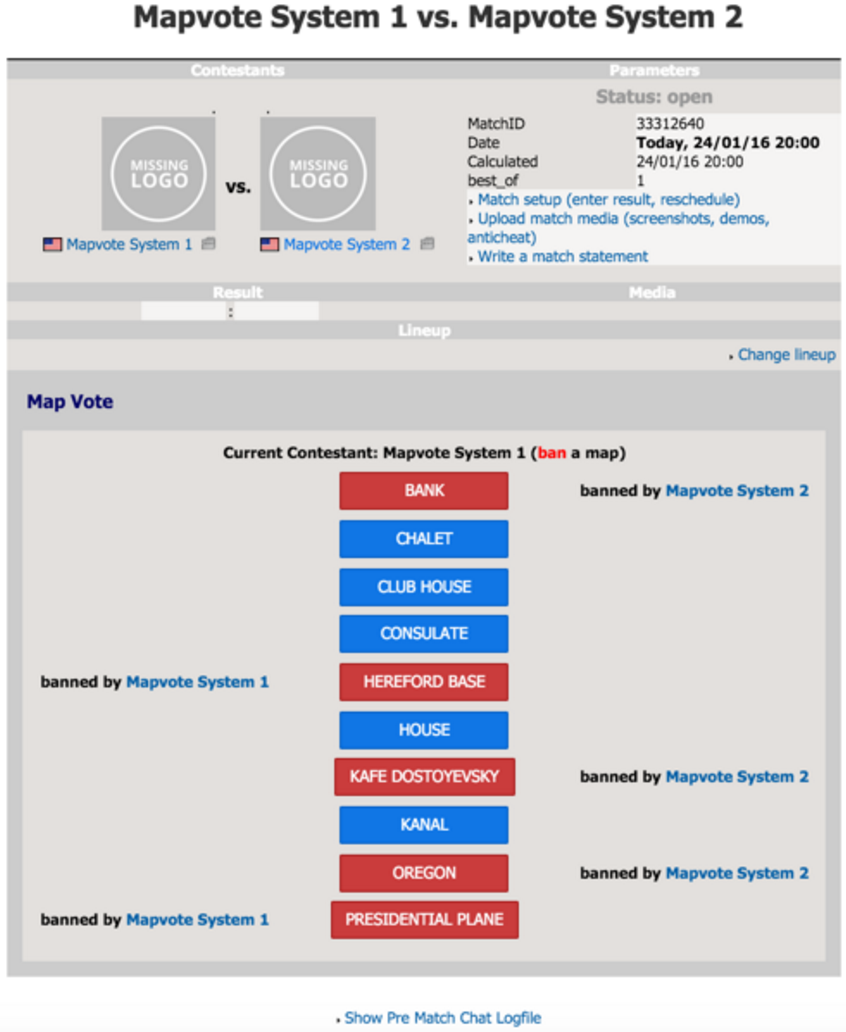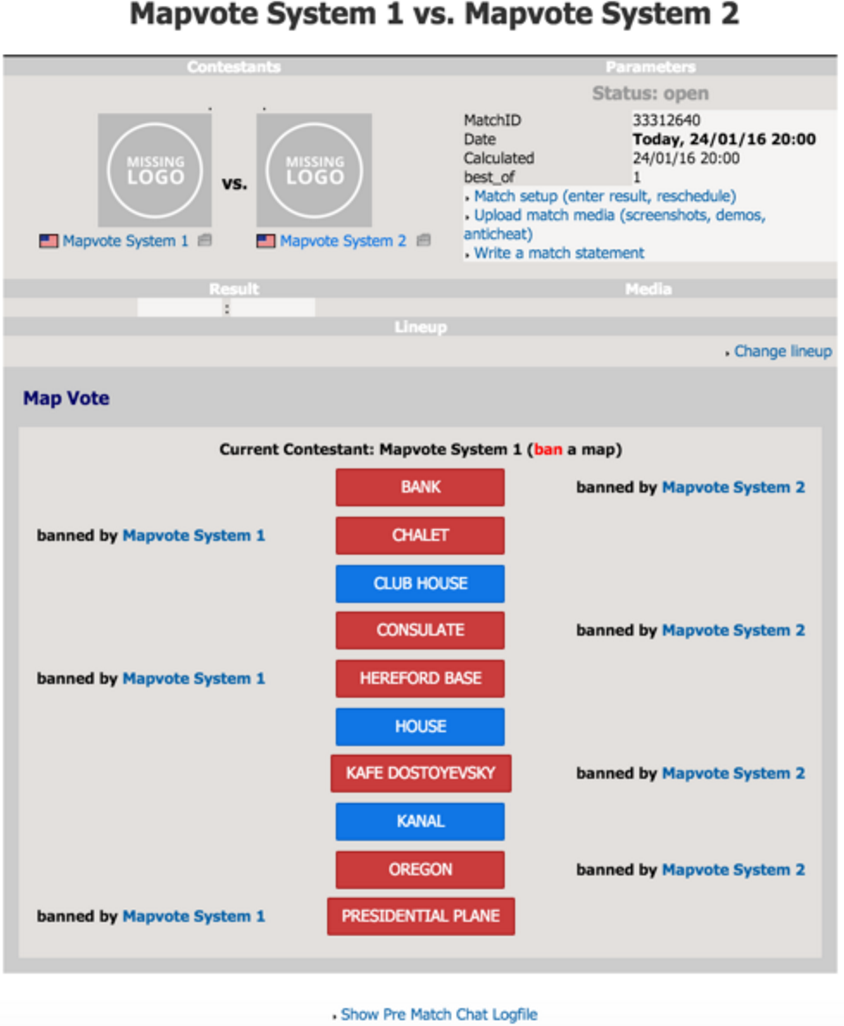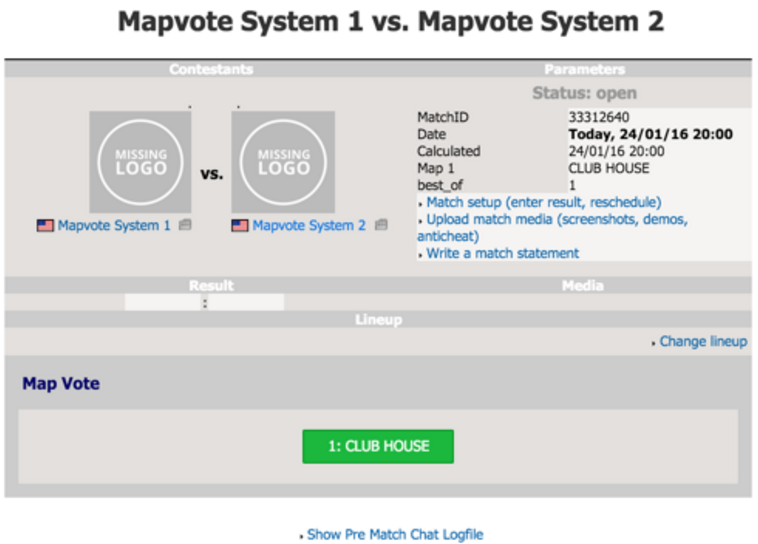 ESL Anticheat (PC Only!)
Download ESL Anti-Cheat
How do I add Rainbow Six: Siege to ESL Anti-Cheat?
Donwload and install the latest version of ESL Anti-Cheat. You can get it from this link and you can read about the compatibility of ESL Anticheat here.
Run ESL Anti-Cheat as system administrator.
Run the ESL Wire client as administrator. Upon opening, the client will prompt you to log in to your ESL account.
Click on the "Play" tab to view a list of your installed games. The ESL Wire client will automatically detect your games and add them into this list.


If the ESL Wire client does not detect Rainbow Six: Siege,you have to add the game manually to your libary with using the following steps.
Click on "Add Game" and select the "Add a game manually" option.
Select Rainbow Six: Siege from the list of games.
Select the executable file for Rainbow Six: Siege.
The ESL Wire client will scan your registry for any registry keys connected to Rainbow Six: Siege. If any registry keys are detected, you may select any of them. If no registry keys are detected, click "Add without keys".
The ESL Wire client will launch the game and perform a test to determine the main executable file. Allow Rainbow Six: Siege to open into the Main Menu before closing the game. After you have closed the game, click "Game is closed".
The ESL Wire client will have detected the main executable file for the game. Select the file and click "Done" to complete the process.
How do I test if my ESL Anti-Cheat is set up correctly?
Join the ESL Wire testing team.
Run ESL Anti-Cheat. Double Click Rainbow Six:Siege on your gamelist ("Play" tab).
Check the "Match/Gather/PCW" box. Select the "vs. Wire Anti-Cheat team" match from the list. Anti-Cheat option should be checked with gray color.


A small Anti-Cheat window will open as it prepares to start your game. The ESL Wire client should also show that Anti-Cheat is active. This process may take several minutes.


Play a few games to determine how Anti-Cheat works on your PC. It can lower your fps rate if you have multiple applications running at the same time.
Quit the game. Now the "Matchmedia upload" window should appear - this is the signal that the Anti-Cheat has stopped.
Go to the match page.

How do I start a match with ESL Anticheat ?
Go to the match page.
Click the blue "Start Rainbow Six: Siege with ESL Anticheat " button.
If prompted, select "Launch application".
Wait for the Anti-Cheat client to start and launch your game!
After you are logged into the game, go to the matchpage and see if you have a correct login time. Always remember to check this!
If you only have only a login (no logout), you are correctly logged in and can start playing.
If you have a logout before you close the game, you might have configured something wrong! Read below to find out how to fix this, or submit a support ticket.
Frequent problems with ESL Wire Anticheat
Uplay ask you to add a gamekey? This issue can happen if you have installed two gameversions (Steam & Uplay). Please uninstall one game and restart ESL Wire Anticheat!
If you have an instant logout after you login, please reinstall ESL Anticheat!
If the "Matchmedia Upload Window" appears as soon as you start your game, please reinstall ESL Anticheat!
If the "Transmitting Data" at the end of the game is open for too long, make sure you disable other programs on your computer!
If you have persisting problems with ESL Anticheat , try uninstalling and reinstalling the program!
If you have persisting problems with ESL Anticheat that are are not listed here then please look here!
If you have a problem that is not detailed above, please submit a support ticket! Our admin team will be happy to assist you!
MOSS (PC Only!)
Official MOSS: MOnitor System Status Homepage
MOSS's features include:
Automatic random screenshots
Unique PC identifier based on Hardware information
Capture game's key files
Real time Processor Speed versus BIOS setup and box nominal speed
Game Exe SHA signature and start time
Ingame screenshot stored when PrtnScrn is pressed
Keyboard and mouse Macros uses detected and reported including Keys, timing and uses count
ESL Wire Anticheat monitoring OR The Processes names, path and SHA listing at game start
All this information is embedded in a final secured ZIP file, provided by player as a fair play evidence.
Start MOSS
Go on File -> Parameters -> select Rainbow Six and press on "ok"
To start the function go on "Capture" and press on Start
After the match is played press below Capture on Stop
The file will be created and saved in the MOSS folder on your desktop!
Add the file to the ESL Match Page via ESL Wire Anticheat or manually via the function on the Match
If you have any questions to MOSS please ask in the forum on the official MOSS Homepage! MOSS is an 3rd party program and only used from the ESL!