Quick Rules
Informação:
Lion, Gridlock e Mozzie não podem ser usados!
Detalhes do torneio:
Formato: 1on1
Tipo: Sistema Suíço
Número de rondas: 4
Partida: BO1 (Melhor de 1)
O que é o Sistema Suíço?
Em cada ronda do torneio, os jogadores são emparelhados com um adversário com o mesmo número de vitórias e derrotas.
Se houver um número ímpar de jogadores com o mesmo histórico de vitórias e derrotas*, um deles será aleatoriamente posto contra um jogador com um número próximo de vitórias e derrotas. Se houver um número ímpar de jogadores no total, um jogador aleatório com o pior histórico de vitórias e derrotas receberá uma vitória por defeito*.
A quantidade de jogos no torneio pode variar dependendo da quantidade de jogadores no check-in. Os jogadores devem visitar o site para conferir a quantidade de jogos, assim que o torneio for lançado. Os jogadores são eliminados do torneio após perderem 2 partidas. Depois disso, nenhum jogo será atribuído a esses jogadores e eles poderão ver os resultados do torneio assim que o torneio terminar.


* Exceto no primeiro jogo
Requisitos: (apenas para PC)Configurações da partida:
Playlist Type: Normal Mode
Server Type: Dedicated Server
Voice Chat: Team Only
Time of the Day: Day
HUD Settings: Pro League
Number of Bans: 4
Ban Timer: 20
Number of Rounds: 12
Attacker/Defender role swap: 6
Overtime: 3 Rounds
Overtime score difference: 2
Overtime role change: 1
Objective Rotation Parameter: 2
Objective Type Rotation: Rounds Played
Attacker unique spawn: On
Pick Phase Timer: 15
6TH Pick Phase: On
6TH Pick Phase Timer: 15
Reveal Phase Timer: 5
Damage handicap: 100
Friendly fire damage: 100
Injured: 20
Sprint: On
Lean: On
Death Replay: Off
Modo de jogo: TDM BOMB
Plant duration: 7
Defuse duration: 7
Fuse time: 45
Defuse Carrier Selection: On
Preparation Phase Duration: 45
Action Phase Duration: 180
ESL Mappool Padrão:
Bank
Border
Club House
Coastline
Consulate
Villa
Oregon
Chat
Precisa de ajuda? Durante a competição junta-te ao nosso servidor de Discord ou abre um bilhete de suporte. Se quiseres abrir um protesto para a tua partida, clica aqui.
Contacta o teu adversário!
Utiliza a aplicação gratuita
ESL Play
a partir do teu smartphone para contactares mais facilmente o teu adversário.
Além disso, podes acompanhar em direto a progressão do torneio sem teres que te preocupar. Fácil, confortável e simples!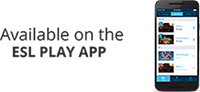 Help
É tua primeira vez? Lê os passos indicados abaixo:
Segue as instruções no menu à direita para te inscreveres e fazeres o check-in.
Se o check-in estiver habilitado, tem a certeza que fazes o check-in no horário.
Aguarda pelo teu primeiro jogo que será mostrado no menu à direita.
Entra em contato com teu oponente e joga a partida.
No fim da partida, envia o resultado e pede ao teu oponente para confirmar.
Aguarda pela próxima partida.
Ainda precisas de ajuda? Durante o torneio, usa o chat se estiver disponível, caso contrário por favor abre um Bilhete de Suporte.
Questões relacionadas com o jogo devem ser tratadas através de um Bilhete de Protesto.