Go4R6 Nedir?
Mücadeleye Hoş Geldin! Hem eğlenmek hem de hediyeler kazanmak için her hafta Cumartesi ve Pazar günleri düzenlenecek Rainbow Six Siege turnuvalarını kaçırma! Her hafta katılacağınız GO4R6 Turnuvaları sonunda, 4 hafta boyunca en yüksek puanı toplayan takımların mücadele edeceği aylık finallerde kendini göstermek için
şimdi katıl!
Cumartesi Günleri - Topluluk Turnuvası (Eğlence amaçlı düzenlenir, ödül bulunmaz.)
Pazar Günleri - GO4R6 Turnuvası (Takım halinde mücadele edebileceğiniz ve her hafta hediyeler kazanabileceğiniz turnuvalar.)
GO4R6 Turnuvaları sonunda her hafta birinci olan takımın oyuncuları kişi başı
2400 R6 Kredis
i ve
Champ Charm
kazanırken, aylık finaller sonunda şampiyon olan takım
4200 R6 Kredisi
, ikinci olan takım ise
2400 R6 Kredisi
kazanacak. Turnuva hakkında duyurulara ve ESL Türkiye'nin düzenleyeceği tüm etkinliklerden haberdar olmak için sosyal medya hesaplarımızı da takip etmeyi unutma.
ESL TÜRKİYE SOSYAL MEDYA HESAPLARI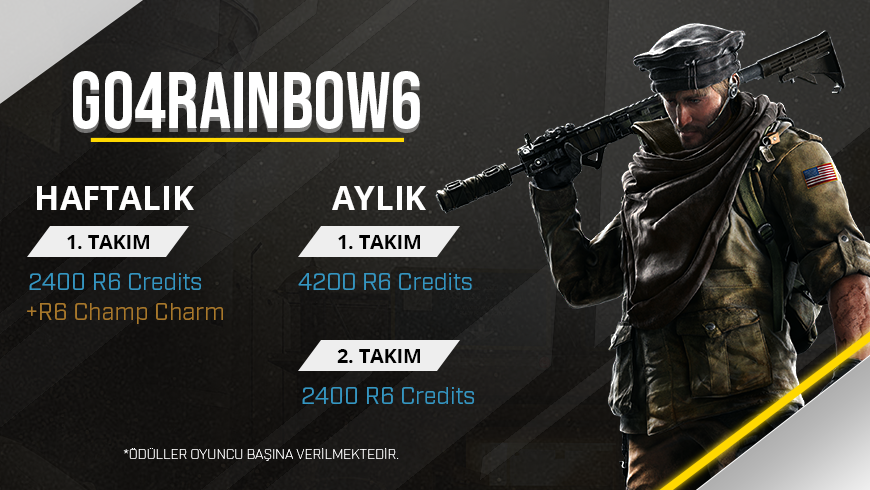 Takımlar mücadele ettikleri ay içerisinde, her hafta topladıkları puanlar doğrultusunda aylık sıralamaya yerleştirilir. Bu sıralamada ilk 8'e girmeyi başaran takımlar bir sonraki ayın ilk haftası içerisinde düzenlenecek olan Aylık Finaller'e davet edilir ve kazanan ekip
12000 R6 Credits
ödülünün sahibi olur.
Güncel Aylık Sıralama

Full Monthly Ranking
Ödül Dağılımı
Sıralama
R6 Credits
1.
12000 R6 Credits + Charm
Kasım 2018 Şampiyonu
Powered by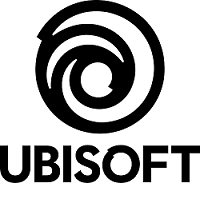 Ubisoft is a leading creator, publisher and distributor of interactive entertainment and services, with a rich portfolio of world-renowned brands. The teams throughout Ubisoft's worldwide network of studios and business offices are committed to delivering original and memorable gaming experiences across all popular platforms.
© 2016 Ubisoft Entertainment. All Rights Reserved. Tom Clancy's, Rainbow Six, the Soldier Icon, Ubi.com, Ubisoft, and the Ubisoft logo are trademarks of Ubisoft Entertainment in the US and/or other countries.