Getting Started
Quake Australian Championship
The Quake Australian Championship will see teams of two battle it out in eight open Go4 cups over the next two months. Points will be distributed from each cup and the three teams atop the standings, along with a special wildcard team, will be flown to Melbourne to battle it out for the Australian Championship at the ESL Stage, PAX Australia 2018. The winner of the Australian Championship will not only take away the regional spoils, but also be granted the unmissable opportunity to compete against the world's best at Dreamhack Winter 2018 in Elmia, Jonkoping!
Play through our ESL Play App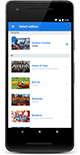 Play on the world's largest competitive gaming platform directly from your mobile device with the
ESL Play App
. Sign up for cups, get information about your matches and report your results! Don't hesitate to share your feedback with us.
Download the ESL Play App