ESL Play Community Area at Pro League Finals 2017

This year the ESL Play Arena is coming to the
Odense Pro League Finals
in Odense, Denmark! It is your chance to meet the Community Managers and Staff members of ESL Play, to play
The Unspoken
on Oculus Rift and to compete on our PC stations in different games. You will also be able to win some awesome prizes from
NVIDIA
and
Logitech
as well as ESL Premium,
ESL Shop
vouchers and many more.As an ESL member you will also be able to use the login counter to claim the special event award and participate in our product raffles every day! Come by and say hello to our
Community Managers
!
Live now - ESL Pro League Finals!
Schedule
Friday - Sunday
All day
Free to play VR and PC games
All day
Raffling product prizes from our collaborators
All day
Photo oppportunities**
** Take a picture at the ESL Play booth and share it on Twitter with @ESLPlay tagged and #ESLPlayOdense as a hashtag. Every picture submitted earns a submission into the prize raffle (limit of 1 per day).
---
Choose a day:
Friday, December 8th 2017
12:00 CET
Booth and registrations to tournaments open
14:00 CET
CS:GO tournament (5on5)
14:00 CET
The Unspoken (VR) tournament (1on1)
18:00 CET
Quake Champions tournament (1on1)
18:00 CET
The Unspoken (VR) tournament (1on1)
ESL Play App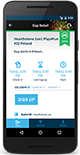 If you want to participate in our raffles or play in our Odense booth tournaments live at the area, then you need to install the
ESL Play App
. There you will be able to sign up for the tournaments, get information about your matches and report your results! It will be the fastest way to find your opponent and to report and confirm the results.
Daily tournaments
Every day we are running multiple tournaments in different games, where the best two players can win some awesome prizes from
NVIDIA
and
Logitech
and the
ESL Shop
.
Also keep in mind to download the ESL Play App as it is mandatory to check-in and enter your results.
---
Tournament prizes
*
Main prize:
Google Pixel Smartphone
* Nvidia Graphics cards
* Logitech product prizes
* ESL Shop vouchers
* And many more
Free to play area, raffles & more
When we are not running tournaments you can come by and enjoy the free to play area. We will also have several raffles during the day. In order to participate you will need to show your account on the
ESL Play App
.
So make sure to come by and say hello! We look forward to meeting you!
Beat the Community Manager
During the days you have the chance to play against an ESL Play Community Manager and volunteers and win some prizes. You can choose from the games we have and challenge us to a duel.
Join us on Social Media
Every tweet with the hashtag
#ESLPlayOdense
will be displayed on this website and the best ones will also be retweeted by the
@ESLPlay
account. Show us that you were here, show us what you won or think of something new!