Active Raffles in December
ESL Shop Discounts
1x €50 ESL Shop Voucher
1x €25 ESL Shop Voucher
1x €10 ESL Shop Voucher
Website-wide raffle
(all game matches count towards it)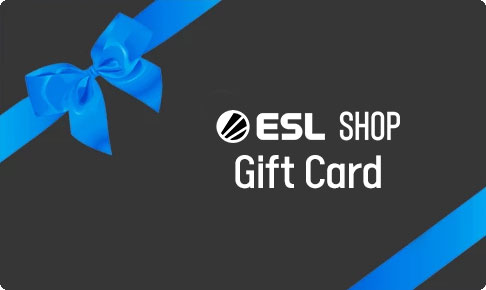 ---
5x ESL Event Duo Tickets
5x duo weekend event tickets
Tickets are for a ESL Mega Event* of your choice
*Current list of available events:
ESL One Los Angeles 2020
ESL One Cologne 2020
More events will be added as they become available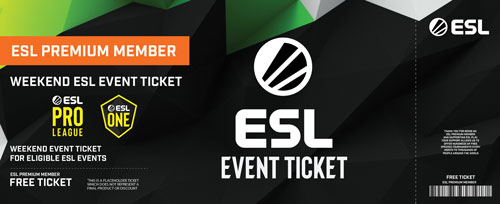 Website-wide raffle
(all game matches count towards it)
Please check the special conditions for the redemption of this raffle below
---
Exterior: Factory New
Exclusive game raffle:

Counter-Strike: Global Offensive
(Only CS:GO matches count as an entry towards this raffle)
---
Premium players win a raffle entry for every match played. Some tournaments may have extra raffle entries which can be seen in the prize box of the tournament. Only matches played in the game specific raffle count towards that raffle (example, if CS:GO item is available for a raffle, only CS:GO matches count towards that raffle). The usual
raffle conditions
apply.
This perk is exclusive to Premium Members!
Unlock this and many more features:
Premium Raffles - FAQ and Special Conditions
How do I enter the raffle?
Become a ESL Premium Member
Sign-up to a tournament
You win a raffle entry for each match played

Some tournaments may have extra raffle entries as a prize, check their prize box for more information

The more matches you play, the higher the chances you have to win a raffle item
Will more games be added in the future?
Yes, definetily. We are kicking off the raffle with Counter Strike: Global Offensive. More games will join the raffle with their own prizes in the near future.
An entry is only valid if the player is a ESL Premium Member before:

the match starts, for match entries
the tournament starts, for the tournament raffle entries found in the prize box of the tournament
How is the winner decided?
At the end of every month, we gather all premium players who played in eligible tournaments and we roll the winner using random.org lists. Winner will: receive an email; be announced in ESL Social Media channels; be highlighted in this page and be mentioned in website news.
ESL Event Ticket Special Conditions
Each winner will receive 2x Weekend tickets for an ESL Mega Event of their choice
This offer is currently only available for ESL Pro League and ESL One Events
The winners are able to redeem this prize over a period of one year from the date of the winning date (which revokes the 2 weeks mentioned in our raffle conditions), meaning that winners are able to wait for a limited amount of time for the event of their choice to be announced and be able to redeem the tickets they want.
Tickets are subject to availability.
The tickets are in pairs, where you are only able to get 2 tickets for the same mega event. You are unable to request one ticket for one event and another for a different event.
Are raffles bound to specific game tournaments?
There are two types of raffles: website-wide rafles and exclusive game raffles. For website-wide raffles, any match participation counts as an entry towards it. Exclusive game raffles are bound to a specific game, so only tournament/match participations will count as an entry towards that prize.
Raffle Winners
Winners of:
Goes
ESL Shop Discount raffle winner
Matches played: 21
Best tournament placement: 3rd
Hopsnehmer
ESL Shop Discount raffle winner
Matches played: 13
Best tournament placement: 3rd
KTerron
ESL Shop Discount raffle winner
Matches played: 5
Best tournament placement: 2nd
LikeZ
ESL Event Ticket raffle winner
Matches played: 20
Best tournament placement: 2nd

ESL Event Duo Tickets

Jekoz
ESL Event Ticket raffle winner
Matches played: 15
Best tournament placement: 2nd
Social media links:


ESL Event Duo Tickets

Beernofear
ESL Event Ticket raffle winner
Matches played: 10
Best tournament placement: 11th

ESL Event Duo Tickets

lion_
ESL Event Ticket raffle winner
Matches played: 27
Best tournament placement: 1st

ESL Event Duo Tickets

sHarBan11
ESL Event Ticket raffle winner
Matches played: 15
Best tournament placement: 3rd

ESL Event Duo Tickets

Tsukuyomi
Raffle winner
Matches played: 10
Best tournament placement: 1st