Pierwsza edycja Ekstraklasa Games z ponad 1,72 mln oglądalnością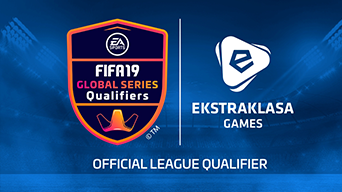 Ponad 17 tys. rejestracji i oglądalność na poziomie ponad 1,72 mln w telewizji i Internecie to efekty pierwszych rozgrywek największego w historii turnieju gry FIFA w Polsce – Ekstraklasa Games. Mecze z fazy ligowej i wielkiego finału były transmitowane w Polsat Games, a także online – na kanałach Twitch, YouTube i Facebook. Zwycięzcą premierowej edycji Ekstraklasa Games została Pogoń Szczecin.
Pierwsze w historii rozgrywki Ekstraklasa Games zakończyły się niekwestionowanym sukcesem. Już w pierwszym miesiącu funkcjonowania projektu strona internetowa Ekstraklasa Games zanotowała 860 tys. wyświetleń. Co więcej, transmisje rozgrywek cieszyły wysoką oglądalnością wśród kibiców. Przez pięć dni w telewizji Polsat Games śledziło je ponad 430 tys. widzów, a w serwisach YouTube i Twitch widownia wyniosła 260 tys. osób. Oglądalność wszystkich transmisji online (łącznie z Facebookiem) zamknęła się w liczbie ponad 1,3 mln wyświetleń, a widzowie obejrzeli w sumie online 84 tys. godzin turnieju.
– Startując z turniejem Ekstraklasa Games w Polsce, Ekstraklasa dołączyła do ekskluzywnego grona lig, które organizują swoje rozgrywki esportowe, jak Bundesliga, Premier League czy LaLiga. Co szczególnie istotne, już po pierwszej edycji możemy pochwalić się świetnymi wynikami, nie tylko pod względem rejestracji czy oglądalności, ale też pozyskanych do współpracy partnerów, którzy dostrzegli ogromny potencjał tych rozgrywek dla budowania rozpoznawalności swoich marek. Zamierzamy więc nadal dynamicznie rozwijać się w tym segmencie – mówi Marcin Mikucki, Dyrektor Departamentu Komunikacji, Marketingu i Sprzedaży Ekstraklasy S.A.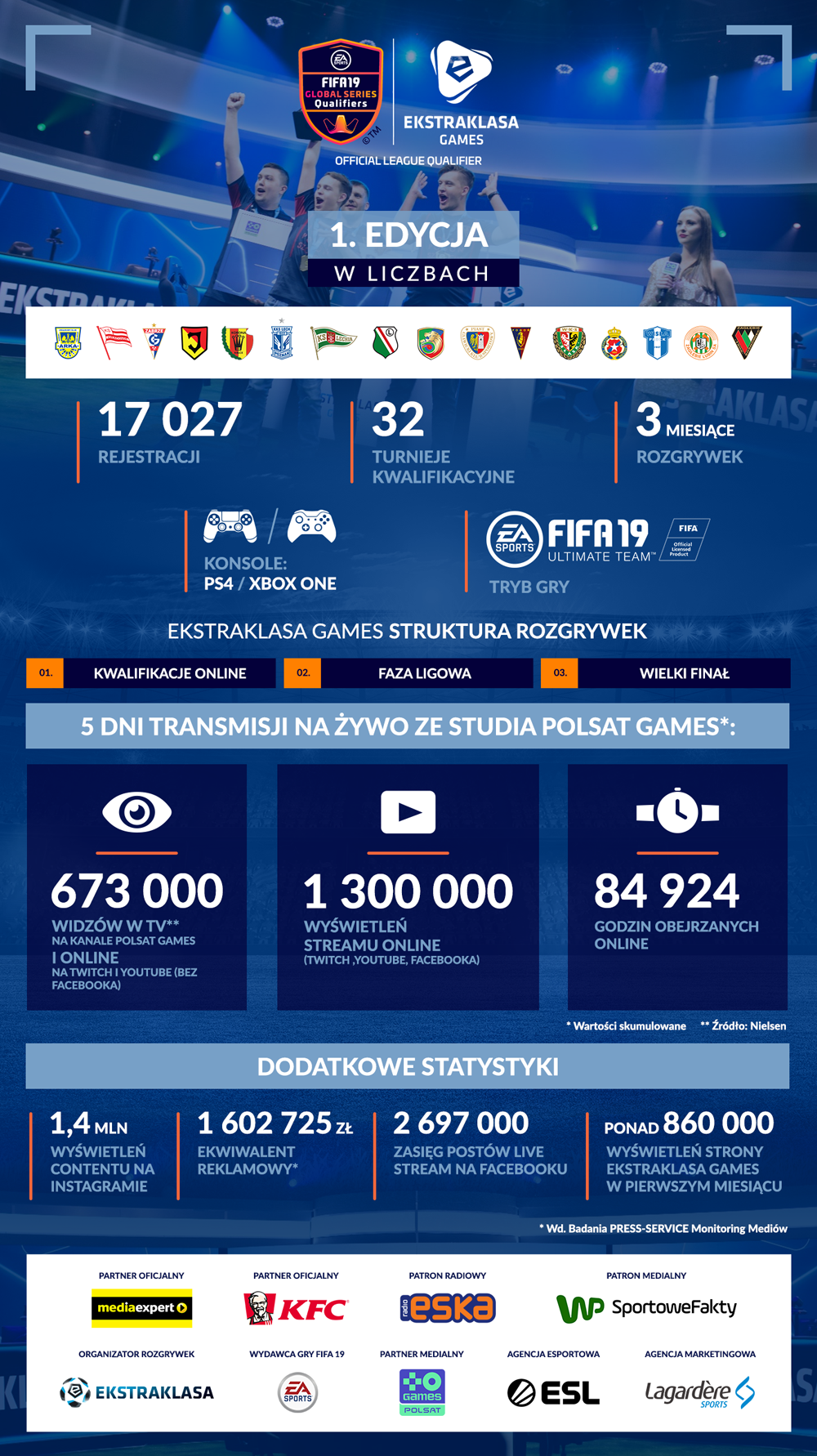 Oficjalnymi partnerami rozgrywek były popularne marki – KFC i Media Expert, które wykorzystały potencjał turnieju przeprowadzając dedykowane kampanie reklamowe w mediach. Sieć Media Expert przy okazji finału przygotowała specjalną promocję na zestawy konsol i gier. Akcja sprzedażowa była wspierana spotami radiowymi z udziałem znanych i cenionych komentatorów – Janusza Laskowskiego i Dariusza Szpakowskiego. KFC z kolei przygotowało innowacyjną ofertę dla osób śledzących transmisje z turnieju na Twitchu. Im dłużej użytkownicy oglądali stream, tym większy zyskiwali rabat na zamówienie online. Użytkownicy dostawali zniżkę także za wpisywanie frazy "KFC" na czacie transmisji w Twitchu. W sumie pojawiła się tam ona ponad 2,4 tys. razy.
Ekstraklasa Games to największy projekt esportowy FIFA w Polsce i największy krajowy turniej dający możliwość rywalizacji o punkty do światowego rankingu FIFA 19 Global Series, z którego można awansować do Mistrzostw Świata w FIFA 19. Rozgrywki były przeznaczone dla wszystkich zawodników, zarówno amatorów, jak i profesjonalistów. Zwycięska ekipa Pogoni Szczecin, która w finale pokonała Legię Warszawa, otrzymała 20 tys. złotych, a pula nagród dla pierwszej trójki wyniosła 35 tys. zł. Ich fundatorem była marka Aztorin. Dodatkowo wszyscy zwycięzcy kwalifikacji, oprócz prawa gry w fazie ligowej, otrzymali od Media Expert profesjonalne fotele gamingowe.
W projekt zaangażowane było grono partnerów doskonale znających świat esportu i mających ogromne doświadczenie w realizacji najważniejszych projektów w polskim gamingu. Strategicznym partnerem medialnym była telewizja Polsat Games, w której studiu odbywały się turnieje fazy ligowej oraz finały. Kluczowa była także współpraca z wydawcą gry FIFA 19 – Electronic Arts Polska. Agencją esportową odpowiedzialną za koordynację turnieju było ESL Polska. Nad całością projektu czuwała agencja marketingu sportowego Lagardere Sports.


Information:
info write comment not allowed