Turniej Kuźnia Talentów OMEN & INTEL
Pula nagród: 30 000 PLN + nagrody rzeczowe!
Wybierz swoją grę!
Rozgrywki 2on2 Red Bull Flick
Play through ESL Play App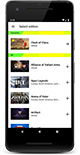 Play on the world's largest competitive gaming platform directly from your mobile device with the
ESL Play App
. Sign up for cups, get information about your matches and report your results! Don't hesitate to share your feedback with us.
Download the ESL Play App