PokerTH Summer League 2017 -Award & Premium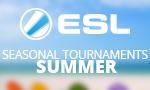 While the finals of the Spring League are pending we are ready to announce the Summer Season! As always you can win some Premium Accounts and the seasonal award! Signup now!
1on1 Tournament
1on1

Format

groups followed by playoffs
32 slots, first come first serve!
8 groups with 4 players each
single elimination playoffs: best 2/group
direct comparison in case of same stats after group matches

Settings

general 1on1 rules
Max players: 2 players
Startmoney: 2.000$
1st small blind: 20$
manual blind order: 30, 40, 50, 75
Afterwards: Keep last blind
raise every: 10 hands
delay between hands: 5 sec
Time to act: 15 seconds
Password: As you wish


Gameaccount

PokerTH Nickname: add
Should be similar to your ESL nickname


Schedule

Sign ups are already open
Sign ups end: 23rd July 2017
1st Matchweek: 24th-30th July 2017
1 match/week (groupstage & playoffs)
default date: Sunday 20:30 CET
of course you can play before Sundays
Delays

Contact your opponent in time and document that!

you have 1 week to play the match

if the match is not played till Sunday, 23:00 CEST a Protest is opened by the Admin Team in order to get the match played in the next 48h

if you receive the 2nd defloss you will be removed from the tournament
and
suspended from the next Seasonal tournament!
Prizes for the tournament
The top three of the tournament will be rewarded with the following prizes:
Prizes

1st Place: 3 Months Premium and Seasonal Award
2nd Place: 2 Months Premium
3rd Place: 1 Month Premium
Note: The tournament will only start with less than 15 players!
New to PokerTH? 2 easy steps to get the game!
1) Download (
) the latest version for free and create a new account

2) Add your PokerTH nickname as gameaccount to your ESL Profile



So fast, so easy! Now you can join our ladders and tournaments!
Questions & Support
If you have any further questions, problems or feedback, you can always post in our forum or open a Support Ticket. GL & HF!
// Your


Admin-Team
Sn4kE
, Tuesday, 11/07/17 05:11

No comments yet.

Information:
info write comment not allowed