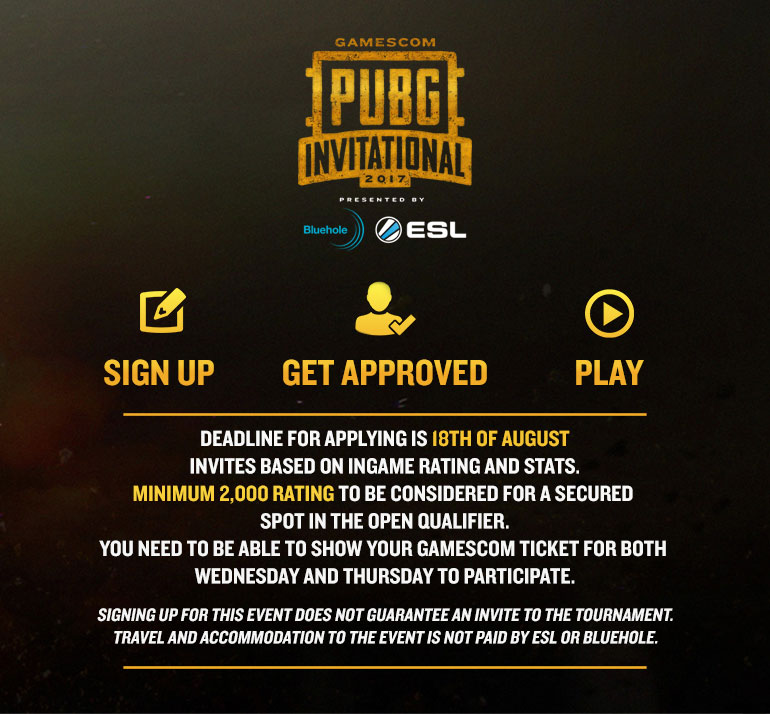 F.A.Q
How to sign up your team:
Add your PUBG ID
Create your team
Click Team Status & copy the invite link
Send the invite link to your friend
Hit the sign up button
---
Q:
I made a team, but my teammate cannot join the roster to register.
A:
The maximum roster size to sign up only supports up to 2 people. Please make sure your teammate is logged in and your roster size did not reach the limit.
Q:
I cant sign up with a team, but we have enough people.
A:
You may only have 2 players on your roster, more may result in the inability to register.
Q:
When does the rating requirement take effect?
A:
We will look at the rating and standings after the registration deadline at 18th August.
Q:
How old do I have to be to participate?
A:
Due to the USK18 rating you need to be at least 18 years old to participate.
Q:
How do I register for the FPP and TPP tournament?
A:
By default this registration confirms TPP. Upon approval of meeting minimum requirements, an ESL admin will reach out individually for FPP which takes place the following day.
---
Tournament Schedule:
Wednesday, 11:00am - 3:40pm:
Duo TPP Qualifier tournament
Thursday, 11:00am - 3:40pm:
Duo FPP Qualifier tournament
Thursday, 4:40pm - 8:00pm:
Duo TPP Main tournament
Friday, 4:40pm - 8:00pm:
Duo FPP Main Tournament