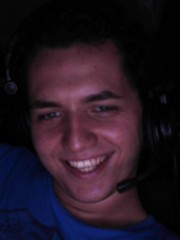 Contacts & Buddies

nite

Lady BlueN..
TheRogue

Spleen

Defender
Anima
Name
Manuel Laufenberg
Nick
Santo
Member since
06/03/04
Age / Gender
29 Years / male
Nationality
 Germany
Country, City
Germany, Köln  

(50xxx)

Occupation
Project Manager
Employer / University / School
CNX
Main team
Turtle Entertainment
Homepage
http://www.cnx.de
Thanks for all the awesome time we had together. Hope we'll meet once again sometime :)
Level & Awards
Teams
Clubs
VS. Placements
Season 1 2018 (15/03/18 09:00)
This player doesn't have a VERSUS ranking in the current season.
Leagues & tournaments
Recent matches
  Testing Area 1on1 Betatest 2 gg no r3
win
bLackhawk 

+2

Sunday, 17/11/13 09:00
  Testing Area Counter-Strike: Global Offensive 1on1 Anti-Cheat Ladder
loss
Soodi 

-25

Thursday, 20/06/13 12:00
  A-Series Test Area
loss
(bye) 
Wednesday, 10/10/12 08:25
loss
(bye) 
Tuesday, 09/10/12 11:30
loss
(bye) 
Tuesday, 09/10/12 10:50
win
zupfkuchen 

+20

Thursday, 04/10/12 05:00
win
zupfkuchen 

+21

Thursday, 04/10/12 05:00
loss
zupfkuchen 

-25

Thursday, 04/10/12 04:45
win
crz 

+22

Thursday, 04/10/12 04:30
  FIFA 13 1on1 A-Series
loss
Ericxxson 

-20

Sunday, 07/10/12 14:00
1
Gather statistics
Game
1on1
2on2
Team
All
Show all Gather statisticsOnly show the best 5 Gather statistics
1
1
150
152
BattleForge
0
1
0
1
Left 4 Dead
0
0
1
1
World in Conflict
0
0
1
1
World in Conflict
0
0
4
4
CSPromod
0
0
1
1
Counter-Strike
1
0
76
77
Counter-Strike: Source
0
0
64
64
Counter-Strike: Global Offensive
0
0
2
2
Dawngate
0
0
1
1
Visited Events
Contact