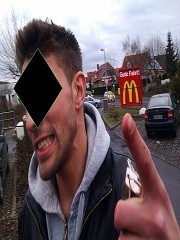 Contacts & Buddies

Der Archit..

ji
IRCFreaky
InGE
MdaaaaOhhh

P@Nu
This player account is frozen and can not generate any 1on1 matches (challenge) or be generated (be challenged/Auto-challenger). Open 1on1 and 2on2 matches may be played, the player may however not compete in any other team matches. See below for details on the freeze.
Name
--
Nick
bAAAm
Member since
08/03/08
Age / Gender
- / male
Country, City
Germany, Frankfurt  

(60xxx)

Occupation
Data Centre Security Consultant
Employer / University / School
Datacenter FFM
Main team
Steuerfahndung München IV
Homepage
--
Bundesligastürmer~~

BACK MIT CSGO SKILL IM GEPÄCK  more...  
Level & Awards
Clubs
lock
Recent matches
  PokerTH Open Ladder 1on1 Turbo Europe
loss
OnyyyyyX'UKR 

-18

Saturday, 05/04/14 08:40
2
win
PitBull 

+28

Wednesday, 12/03/14 13:25
1
loss
razer 

-20

Wednesday, 12/03/14 13:20
1
loss
SpYTeX 

-23

Wednesday, 12/03/14 13:05
2
  CS:S Open Ladder 1on1 AIM Europe

draw

OnyyyyyX'UKR 

+11

Monday, 24/03/14 14:25
3
loss
Cstriker 

-29

Friday, 07/03/14 05:45
3
win
HE.KURIL 

+26

Thursday, 06/03/14 11:00
6
win
Sry.bro.exe 

+28

Tuesday, 04/03/14 06:00
6
loss
DeStroy 

-20

Monday, 24/02/14 22:00
5
win
Davido01 

+31

Monday, 24/02/14 22:00
3
Visited Events
Contact