Quick Rules
All games are to be played in First Person. Custom games created must have
"Allow Third Person" set to "Disabled".Banned:
Champion: Terminus

Champion: Grover

Champion: Lex


Banned Cards/Talents:
Unstable Fissure on Atlas


Banned Skins:
Mastery Skins (Cosmic/Obsidian)
Bomb King "Battle Byte" Skin
Drogoz "DZ-03 Draco" Skin
Drogoz "Samba" Weapon Skin
Drogoz "Abyssal Lord" Skin
Fernando "Enforcer" Skin
Furia "Battlesuit Angel" Skin
Inara "Battlebyte" Skin
Jenos "Remix" Skin
Makoa "Omega" Skin
Viktor "Legionnaire" Skin
Zhin "Ebonstar" Skin


Banned Emotes:
All roaming emotes
A use of one banned item might result in a team's disqualification.
Format:
Platform: All platforms
Server: North America. Can be played in another server if both teams agree.
Up to and including Semi Final: Best of 1 (one)
Finals: Best of 3 (three)
Map Drafting:
Maps will be banned and picked through the matchsheet with the automatic mapveto system. The team that has the higher seed starts and has first map pick. Each team bans a map, then the teams pick maps alternately from the remaining Map Pool to decide the order in which they will be played. The team that does not pick the map for a specific game has first champion pick in the game lobby.
New teams
, please read cup guide here:
Playing a cup
Before you start:
Create a party with five members in the Paladins Client

Press Play -> Challenge Match -> Two options: create a match or join to a room
Create: create a room share it with your opponent via ESL/in game chat
Join: contact with your opponent and with the right password you will be able to join and start the game when everyone is ready
Champion picking: Champion picking is done via "Competitive" game mode. When creating a custom game, please remember to use the "Competitive" pick mode, not "Casual".
Spectator mode must be enabled for all matches for the duration of the tournament.
Loadout Style must be set to Bound
Allow Third Person must be set disabled.
Prize
| Place | Prizes |
| --- | --- |
| 1. | 5x 800 |
| 2. | 5x 600 |
| 3. | 5x 400 |
Chat
Looking for your opponents or need help?
Join
ESL Paladins
on Discord, use the
ESL Play App
to chat with your opponent or open a
support ticket
.
Match related issues must be handled via match protest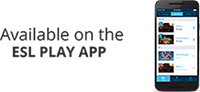 Help
Is this your first time? Here are the important steps:
Follow the instructions on the right to sign up
Get in contact with your opponent and play the match
Enter the result and ask your opponent to confirm
Still need help? During the tournament you can always contact support and our Staff will kindly help you.
ESL Paladins Staff Admin Team - America