Quick Rules
This ladder requires players to use ESL Anticheat. All players are required to run ESL Anticheat during their match, which can be downloaded
here
.
Using ESL Anticheat is very simple.
Download and install the client
Double click your open match, hit start and wait for it to be finished loading
Start Overwatch via the Battle.net client
Close the game once you finished your match and let the upload finish
Repeat!
Game Rules:
Rule set: Skirmish
Victory condition: The first to reach 20 kills wins
High bandwidth: On
Game mode:
Map rotation: Single map
Return to lobby: After a game
The higher seed starts the map veto

Available maps: King's Row, Numbani, Watchpoint: Gibraltar, Dorado, Hanamura, Temple of Anubis, Volskaya, Nepal, Lijiang Tower, Hollywood, Ilios, Route 66, Eichenwalde, Oasis, Horizon Lunar Colony & Junkertown

Hero selection limit: None

All heroes are currently allowed

Disable kill cam: On
General Rules:
Recordings and/or screenshots from each round are required
All other settings are to be left as the default. For a full list of server settings, please refer to the rules page.
Chat
Looking for your opponents or need help?
During the cup join
ESL Overwatch
on Discord, use the
ESL Play App
to chat with your opponent or open a
support ticket
.
Match related issues must be handled via match protest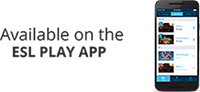 Help
Is this your first time? You can find a detailed instruction here.
Otherwise here is a quick-step introduction:
Follow the instructions on the right to sign up
Find a match using the match making methods listed on the right
Get in contact with your opponent and play the match
Enter the result and ask your opponent to confirm
Still need help? Please contact support
Match related issues must be handled via
match protest
.