ESL Wire 1.0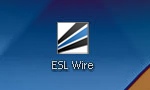 From today ESL Wire 1.0 is free to download for everybody! ESL Wire is an instant messenger as well as a tool that simplifies playing on the ESL and combines a lot of very helpful functions. This includes Matchmedia Upload, a Screenshot Tool, integrated Aequitas, Buddy-, Lobby- and Teamchat as well as virtual LANs and Video Broadcasting.
Nearly two years have been spent in developing this program including a long orientation phase what Wire should be and what not included. Since the first version of the Open Beta last year a lot has happened. While a lot of users were lacking of reasons to use Wire, nowadays we already have many more users regularly using Wire. More than 10,000 users online per day and over 20% of all matchmedia being uploaded with Wire tells a story of real success.
ESL Wire features
Matchmedia Upload

Automated upload for screenshots & replays

Screenshot Tool

For all games without screenshot functionality

Integrated Aequitas

Don't forget to start aequitas anymore

Buddy-, Lobby- und Teamchat

Chat with your buddies or opponents

Virtual LAN

Online gaming as easy as playing in a LAN

Video Broadcasting

Video streaming live from you PC
What is ESL Wire?
The purpose ESL Wire is to do everything that the homepage cannot. This of course means that Wire is not the whole homepage in the form of a program. Wire can for example show your open matches and let you start your game for a match. When using Wire to take screenshots once your match has ended you can upload matchmedia straight away using the matchmedia upload tool. If your match requires Aequitas it will be started for you and included in the matchmedia upload. Wire is also able to create virtual networks to guarantee a better quality of the connection. With Wire you can also have your own video broadcast so your friends can watch you live while your playing. Last but not least course you are able to chat with your ESL Buddies, even if you are not logged in at the homepage.
At the same time as we release the first official version of ESL Wire we also build a great basis for a lot of following ideas we want to implement in Wire in the following months - everything with the aim to make playing at the ESL as comfortable as it possibly can be for you. Less to worry about, just play!
Statements from ESL Wire testers
"
<silios>
ESL Wire really is great and makes it way more comfortable to manage all my matches.
"
<chillmaster>
I have to admit - the automatically AEQ starting, the ingame options, converting the screenshots into .jpgs, zipping the files, etc... delicious. And the direct upload to the matchsheet, perfect :)
"
<asxx>
Wire indeed has succeeded... you can really commend the developers for that.
Download
Download the first official version of ESL Wire and test it! Wire is available as 32bit and 64bit version and and of course in many different languages:
Enjoy it, we are looking forward to your feedback,
Your
ESL Wire Development Team