ESL Wire: Open Beta starts today!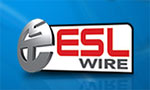 Now it's time for the ESL Wire open Beta! So far only a few chosen users had tried ESL Wire. Now (nearly) everybody can have a look at it! We present to you all the features with words, pictures and sounds as well as the ESL Wire Manual on its very own homepage. Sign in for the Open Beta now!
The next step in the ESL Wire Beta is not only meant to provide us with a larger of users the chance to see ESL Wire working but also to test the technical back end and performance use. So not every user will get access immediately. As soon as you
register for the Open Beta
you will be lined up in the queue for the next spot. When it's your turn to test ESL Wire, you will get an E-Mail with all the information you need and the link to download ESL Wire. At the moment only
ESL Premium Members
will have access to the beta. But of course ESL Wire will not be a premium only feature.
While the state of the current ESL Wire release is quite impressive, please remember that it is still in beta stage. We will add new and change the current features. We are looking forward to your feedback and reviews to make ESL Wire into what you would like it to be.

All information on ESL Wire at www.esl.eu/wire
!
The features of ESL Wire:
Game Lobbies
Virtual Private Network
Create your VPN
Gather Integration
Games Detection
Buddy Management
Instant Messaging
Aequitas Integration


Soodi
, Monday, 21/04/08 10:46


Information:
info write comment not allowed