Archive ESL Europe Europe WC3L
Blizzard & Intel Warcraft Weekend: Seedings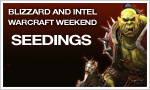 We are happy to announce the seedings for the Blizzard & Intel Warcraft Weekend tournaments in Warcraft 3 and WoW. Eight teams and players will compete in each bracket in Hamburg from 22nd until 24th of June. Click on more for the seedings!
The Warcraft 3 player

1572644
can not attend the event because of visa problems. Four Kings player

453518
will substitute him.
Warcraft 3 Season 5 Europe Finals Seedings:World of Warcraft Season 1 Europe Finals Seedings:Warcraft 3 Season 5 Europe Finals:
Rank 1: $1,000 (+ Ticket for the Global Finals)
Rank 2: $750 (+ Ticket for the Global Finals)
Rank 3: $500 (+ Ticket for the Global Finals)
World of Warcraft Season 1 Europe Finals:
Rank 1: $3.000
Rank 2: $2.000
Rank 3: $1.000
Further Information:

Date: June 22nd to June 24th

Blizzard & Intel Warcraft Weekend Website

Address
:
CCH-Congress Center Hamburg
Am Dammtor / Marseiller Straße
20355 Hamburg
Germany
Doors open from
Friday: 16:00 to 24:00 o'clock
Saturday: 11:00 to 24:00 o'clock
Sunday: 11:00 to 19:00 o'clock

Hotel Service

Hamburg Messe

Location Plan

Goggle Map

Entry Fee

Schedule
339429
, Friday, 15/06/07 11:55


Information:
info write comment not allowed