Gamescom Female Meeting 2014!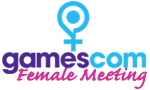 The Female Meeting at Gamescom 2013 was a great success. Immediately after the time together within egirls we decided to continue this event in 2014. So on Saturday of this year's Gamescom we want to see all of you girls at the Call of Duty base again ;)
Gamescom Female Meeting 2014!
The intention of the meeting is that gamer girls meet in real life cross-orgs and cross-consoles and exchange experiences or take online acquaintances to another level. A great opportunity to make new friends or to create a basis for future female gaming projects.
Just a
funny and productive togetherness
far away from stubborn prejudices of the female scene like intrigues etc.
All female gamers are invited
whether Xbox, Playstation or pc.
Moreover, the
CoD Female Team of KILLERFISH eSport e.V.
will be there and some more esport personalities - you do not want to miss this!
Cooperation with Facebook community 'Zockerfrauen'
The 'Zockerfrauen' Facebook page
unites female gamers, presents them 5 times a week to the community
and is on the direct way to
2k likes
.
Whether Xbox, Playstation or pc - all female gamers can find a forum with similar goals like we pursue with our Female Section.
We really appreciate the work of the 2 admins of the page and decided to cooperate with them on this year's GC to reach even more gamer girls.
So you get the chance to meet the executives of the 'Zockerfrauen' page as also the major league admin of the CSL Female Section.
Show your support!
You want to
stay up to date about the developments and events
in the CSL Female Section? Or you want to
show your support
of the female gaming movement?
In this case feel free to use our social network accounts where you always get the latest news and form the section actively!
Follow us on Twitter
Like us on Facebook
We provide a platform where you can exchange views or get to know each other - cross-orgs and cross-consoles.
Because it definitely doesn't promote the advancement of female gaming when we seperate in groups or act against each other. Instead the female gamers shall
come together and stand up for the famous 'greater good'.
We're looking forward to Female Meeting #2 and thus to a few unforgettable hours with you girls ;)
Evolet
, Friday, 08/08/14 18:45


Information:
info write comment not allowed