Welcome to New Games
This is the New Games section of the ESL. Here you will not only find newly released titles, that do not have their own section yet, but also games, which are new to the ESL and are requested by the community. Enjoy a variety of games and help them grow to an official eSports title on the ESL with its own section and Major tournaments.
Supported Games
Madden NFL 17 (PS4)
NBA2K17 (PS4)
Uncharted 4: A Thief's End (PS4)
If you don't see your game in the list, feel free to open a discussion in the forum about it. That is the fastest way to see how many users we have for a certain game and it is also a good place to discuss about the rules and game modes for possible tournaments.
Play through ESL Play App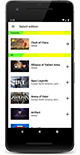 Play on the world's largest competitive gaming platform directly from your mobile device with the
ESL Play App
. Sign up for cups, get information about your matches and report your results! Don't hesitate to share your feedback with us.
Download the ESL Play App
Powered By

NEEDforSEAT offers ergonomic, sporty office and gaming seats from the MAXNOMIC chair series. Our seats are styled like those found in racecars and are designed for long, comfortable use. Uniquely adjustable to exactly the way you like, NEEDforSEAT's designs encourage healthy posture when sitting – no more tension and pain.