Unreal Tournament Opening Cups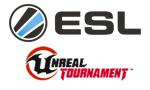 Would you like to participate in the first ever ESL Unreal Tournament 4 Cup? Starting March 5th we are introducing the first ESL 1on1 Open Cups for Unreal Tournament Pre-Alpha. We are happy to announce that we are running two opening cups for this game, one for Europe and one for North America. Signup to become the king of the Pre-Alpha!
UT4 Pre-Alpha 1on1 Opening Cup Europe
UT4 Pre-Alpha 1on1 Opening Cup North America
Prizes
Top 3 players in both regions are awarded with Unreal Tournament Swag Package from Epic Games. They will also be rewarded with
ESL Premium
account and an Opening Cup Trophy Award!

Basic rules
Map picking:
VETO
Map pool:
DM-ASDF, DM-Coma, DM-Erase, DM-Mimic, DM-Lea, DM-Protracted, DM-Solo, DM-DeckTest and DM-Deep
Mode:
1on1 Best of 3, Final best of 5
Settings:
Timelimit 10 minutes, WeaponStay: Off, ForceRespawn: On,
Weapon replacement: Bio Rifle -> Bio Launcher
Rules:
Show all rules
Beginners guide to sign up

Register on ESL

Enter your
Epic ID (playercard)

Enter a
contact method

Click the sign up link!
Info & support
In case of troubles or doubts, don't hesitate to contact us via Support Ticket or join the QuakeNet or GlobalGamers IRC Channel (#esl.ut)
Pickup games on IRC
If you are feeling for some pickup games for our new beloved Unreal Tournament game you can join the channel
#UT4.eu
@ GlobalGamers. It is an active channel with pickup games for all mods.
Recent news:


Unreal Tournament on ESL announcement


Interview with Freeman
See you in the arena! Your


Admin Team
---
Your feedback is always welcome, please leave a message in the comment section below!

marky
, Monday, 22/02/16 14:08


Information:
info write comment not allowed