New Games PC
UT Pre-Alpha Spring Leagues 2016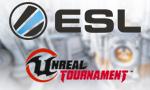 Following the success of our recent Unreal Tournament Pre-Alpha competitions on ESL, we are pleased to announce The Spring Duel and 2on2 TDM Leagues for North America and Europe, starting on April 18th 2016. The format of the league will be groupstages with playoffs.
UT4 Pre-Alpha 1on1 Spring League
UT4 Pre-Alpha 2on2 TDM Spring League
NA Sign up


EU Sign up


Basic rules:

Mode: 2on2 TDM
Matches: Best of Three
Rules: Show all rules


Beginners guide to sign up:

Register on ESL
Click the sign up link and follow steps on the right
With signing up you are in the league, there is no check-in
ESL Unreal Tournament Pre-Alpha Spring League 2016
Timetable


Sign-up start: 30.03.16 12:00 CEST
Sign-up end: 17.04.16 end of day
Groupstage Start: 18.04.16
Groupstage Schedule: 1 match per week
Playoffs start: 09.05.16
1on1 Finals: 21.-22.05.16
2on2 Finals: 28.-29.05.16
Detailed league structure with minor changes to rules and map pool will be announced soon.
Prizes for Winners
ESL Premium Account


1st Place:

3 Months + Epic package


2nd Place:

2 Months + Epic package


2nd Place:

1 Month + Epic package


Cup Winner:

Special Spring Award
Special-Award will be given if min. 16 contestants sign-up
Info & support
If you have any queries or questions, please don't hesitate to contact us via Support Ticket or join the QuakeNet or GlobalGamers IRC Channel (#esl.ut)
Pickup games on IRC
If you're looking to get involved in some of the action leading up to the cups, why not check out

#UT4.eu
or

#UT4pugs
@ GlobalGamers. Those are active channels with
pickup games
for all modes.
Vote for ladders on forum thread.
Recent news:


2on2 TDM Easter Cups 2016

Winners


ESL Unreal Tournament Opening Cups

Winners


Unreal Tournament on ESL


Interview with Freeman
Your


Admin Team
---
Your feedback is always welcome, please leave a message in the comment section below!



Information:
info write comment not allowed