New Games PC
SpeedRunners 1on1 Summer Series #1 Europe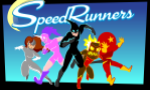 SpeedRunners fans all over the world, rejoice! SpeedRunners is coming to ESL! Now each and every one of you has a unique opportunity to compete against other players online AND win prizes! The first cup will be hosted on Saturday 1st August at 20:00 CEST for European players, while the North America tournament will happen on Saturday 8th!
Becoming an esport
With almost 1 million downloads (still in Early Access on Steam), SpeedRunners is critically acclaimed and loved all over the world; it is one of the highest-rated games on Steam. It's both fun to play and to watch: Four players race around a platforming circuit, using speed and items to run each other off the screen. We've seen first hand the sorts of crowds that the game can muster up when it's on a big screen or streamed via Twitch -- and if you give the game a quick search on YouTube, you'll find that there are hundreds of videos from big-name YouTubers, and more added from big names every single day.
The Game
In a city filled with superheroes, getting to crimes becomes a competition on its own. Fortunately there are enough rockets, bombs, grappling hooks, spikes, and other goodies lying around -- to make the competition fun and fast. Welcome to SpeedRunners.
SpeedRunners is a 4 player competitive platformer with grappling hooks, power-ups, and interactive environments. Run, jump, swing around, fire rockets, grapple onto people to knock them off screen.
Basics
Sign Up

Signup: 28/07/15 - 01/08/15

Cup Period: 01/08/15 - 02/08/15

Slots: 32+

Mode: 1on1 Single Elimination

Support:
via Support ticket
Conditions
Sign-Up and Check-In System
Sign up for the SR 1on1 Summer Series Europe
Sign up for the SR 1on1 Summer Series North America
This cup uses the ESL check-in system, below is a brief introduction of how this works.
Step 1 - Registration (Green)
Here you can sign-up for the cup, but you will have to confirm your spot later.


Step 2 - Confirmation (Yellow)
30 minutes before the cup starts you will have to confirm your spot. After doing so you are secured a spot in the tournament.
Step 3 - Entering (Red)
Still free spots left? 20 minutes before the cup starts sign up's open again and you can join the cup even if you didn't sign up for it on beforehand.
Prizes
Powered by

No comments yet.

Information:
info write comment not allowed