ESL AAPG Open League Summer 2015 Europe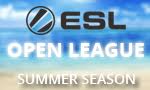 The former seasonal events will be replaced by a global coordinated new seasonal event: The ESL Open Leagues!
The ESL Open Leagues will always be played with the single elimiantion, groupstages and playoffs format as we think that's the best and most competitive format.
The matches will be played 5on5, but because it's summer and maybe some teams will have some trouble finding 5 people, if both teams will agree on it the matches can be played 4on4, but if they don't the matches must be played 5on5 as default.
If the full release of the game will launch in the middle of the cup, we will probably stop the cup for a week or so, but if it will launch before the start of the cup we might change some rule or the map pool.
Information
Start Date: 5th July 2015, 20:00 CEST
Available Slots: + 16 teams
Team Size: 5on5
Game Mode: Group Stage + Playoffs
Match Mode: Group Stage: bo1 Playoffs: bo3
Mappool: Springstreet_EX, Innerhospital_EX, Watchdog_C4, Siege_EX, Harborassault_TH, Intercept_EX, Shadowstep_EX


Schedule
Sign Up open: 15 June 2015
Sign Up closed: 28th June 2015
First matchweek: 5th July - 12th July 2015
Sign up now!


Links
Rules
Support



Prizes for the winners
ESL Premium Account


1st Place:

6x3 Months


2nd Place:

6x2 Months


3rd Place:

6x1 Month


Cup Winner:

Special Summer Award
Feedback needed!
We are waiting for your feedback and ideas on our
forum
! If you have something interesting to say, feel free to post it there. Your opinion will help us to make this section better!
Your


Admin Staff
waNted
, Sunday, 14/06/15 14:57

No comments yet.

Information:
info write comment not allowed