Insurgency Firefight Spring Cup 2015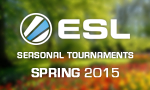 Spring is coming! Like every year the ESL is hosting several spring cups, today we'd like to introduce the Insurgency 5on5 Firefight Spring Cup 2015 Europe. All details and information about this cup can be found right here in this news. As we expect a lot of participants the cup will be splitted over a few weeks.
There will be 3 days in between each round so you should have more then enough time to play your matches in time. On top of that we added a Double Elimination system to our brackets so everyone gets a second chance when you loose!
In case you plan to stream or to cast matches please send us a support ticket with your Twitch.TV account!
Insurgency 5on5 Spring Cup 2015 Europe
Signup now!


Sunday 12th April
Sign up until: 20:00 CEST
Start: 20:00 CEST (19:00 GMT)
Size: 32
Structure: Double Elimination
Basic rules:

Maps:Verticality, District, Heights, Market, Ministry, Panj, Peak, Siege, Uprising
Map Selection: Map Elimination
Mode: Firefight
XvsX: 5vs5
Rounds: MR16, First to 9, Switchside-vote after 8 rounds played.


Remember:

Gameaccount registered
Have fun!

Please make sure that servers are running the correct configurations. We did some slight changes to Maxrounds and Sideswap, so please use the following configs for your servers.
All players in the team that will be playing in the cup need to have their
gameaccounts added
on the ESL site!
Server Settings
We will use the official Insurgency Theater files created by the developer. Please make sure to download the new theater and server files!
Downloads
:
Via Dropbox
Important
- Place both cfg files into the /insurgency/cfg/ folder of your server.
This is only server sided so its not necessary to copy them into your client folder!

Prizes for the winners
ESL Premium Account


1st Place:

5x3 Months


2nd Place:

5x2 Months


3rd Place:

5x1 Month


Cup Winner:

Special Spring Award
What is Insurgency?
It is a team-focused modern military action game where a team's survival depends on securing crucial strongholds and destroying enemy supply.
Feedback requested!
The ESL is here for the players and we would like to know what you think about cups and what these should contain. Also we now have our ESL Insurgency Steam Group up and running. Make sure you join to keep up to date with news and event announcements!
Your

Admin Team


Information:
info write comment not allowed