Insurgency 5on5 FF Community Cup #1 (EU)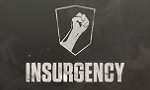 Its been quite a while since we hosted the last Insurgency Cup so we´re proud to announce the first cup of an (hopefully) long term series!
For this cup we are using the same basic rules we used for the past cups since we got a amount of feedback. However, feel free to use the ticket system, the forum or the news comment to voice your opinion! We appreciate every form of feedback!
Insurgency 5on5 Community Cup #1 (EU)
Signup now!


Sunday 29th March
Sign up until: 19:00 CET (18:00 GMT)
Start: 19:00 CET (18:00 GMT)
Size: 16 (can be expanded!)
Structure: Single Elimination
Basic rules:

Maps: Buhriz, Contact, District, Heights, Market, Ministry, Panj, Peak, Revolt, Siege, Sinjar, Uprising
Map Selection: Map Elimination
Mode: Firefight
XvsX: 5vs5


Remember:

Gameaccount registered
Have fun!

Please make sure you are using the theater as they contain weapon restrictions and modifications to gameplay.
All players in the team that will be playing in the cup need to have their
gameaccounts added
on the ESL site!
Server Settings
We will be using similar settings to other recent cups.
Downloads
:
Via Dropbox
Step 1
- Place the Theater into the /insurgency/custom folder
Step 2
- Place both cfg files into the /insurgency/cfg/ folder
Check-In System
This cup uses the ESL Check-In system, below is a brief introduction of how this works.
For now
Step 1 - Registration (Green)
Here you can sign-up for the cup, but you will have to confirm your spot later.


Step 2 - Confirmation (Yellow)
30 minutes before the cup starts you will have to confirm your spot. After doing so you are secured a spot in the tournament.
Step 3 - Entering (Red)
Still free spots left? 20 minutes before the cup starts sign-up opens again and you can join the cup even if you didn't sign up for it beforehand.
What is Insurgency?
It is a team-focused modern military action game where a team's survival depends on securing crucial strongholds and destroying enemy supply.
Feedback requested!
The ESL is here for the players and we would like to know what you think about cups and what these should contain.
Your

Admin Team
Face
, Monday, 16/03/15 15:40


Information:
info write comment not allowed