Quick Rules
How-To-Play:
Add your opponent as a friend.
Start Madden NFL 20.
Create an online Lobby.
Invite your opponent.
Select the "Match Details" found below.
Take a screenshot with the chosen teams.
Start the match.
After the match is finished, please enter the result and screenshots via ESL Play mobile app or website.
Results:
Player is responsible for uploading screenshots of the game results at the end of the game. Screenshots must include the nickname of the opponent and final score.
Entering a result while a match is in progress disqualifies the player.
If you have a conflict in the game, please open a protest ticket so an admin can review the case and make a decision.
Tournament Details:
Game Mode: 1on1.
Format: All matches are Bo1.
Tournament Type: Swiss System.
Number of rounds: The number of rounds to be played can vary based on the amount of participants and results.
The tournament will progress until a clear prize ranking, using Buchholz tiebreakers, is reached.
Elimination after 1 loss.
No show time: 10 minutes from the scheduled match time. If your opponent is not present, open a protest ticket.
Match Details:
Fatigue: On.
Quarter Length: 5 minutes.
Game Skill: All-Pro.
Accelerated Clock: 20 sec.
Weather: Clear.
Stadium: Home Team Stadium.
Teams: All teams allowed.
Players positioned on the left side will always be the HOME team while the right side will always be AWAY team.
Prize
PSN Gift Cards
| | |
| --- | --- |
| Place | Reward |
| 1. | $25 USD PSN gift card |
| 2. - 8. | $10 USD PSN gift card |
Help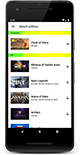 We recommend downloading the ESL Play App for our Madden NFL 20 tournaments.
Sign up for the cups, get information about your matches, report your score and upload your screenshots!
Download the ESL Play App
Questions or doubts
regarding this tournament? Please do not hesitate to contact our admin squad via
Support Ticket
. If you have any questions regarding creating an ESL account, joining the tournament, rules or contacting the rival, you can
open a Support Ticket
and we will reply as soon as possible
Problems with the match:
If you have problems with contacting your opponent, something happened during the match and you want to escalate that, please
open a Protest Ticket
and we will try to solve the issue as soon as possible.
Please keep in mind that admins of the tournament are here to help and make sure that you have a great experience during the tournament.